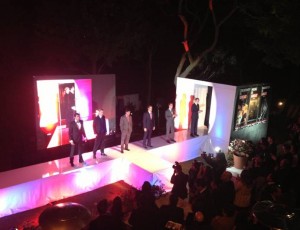 2013 is the Year of the Snake in the Chinese Calendar – which would be "El Año de la Serpiente" in Spanish. The holiday season is a good time to get a break and recharge the batteries.  A new year represents a new chance to achieve our goals and tackle more challenges.
What was 2012 all about? Well, through events like the Olympics and Paralympics, and the UK Government's "GREAT" campaign overseas, the UK was on everybody's lips - and Mexico was no exception.
In Mexico we had a visit by the Prime Minister and Lord Green: we welcomed 2,000-people to celebrate the Queen's Diamond Jubilee; we intensely promoted London 2012; and also organised a "British Season": a series of activities to showcase the best of Britain's culture, business, sport, creativity, sustainability, and more.
The British Season took place from September to December - it included many events like our participation in GREEN Expo to promote expertise in clean technology, the celebration of the 50th anniversary of the Beatles and James Bond, visits by the Lord Mayor of London and Stella McCartney, and launch events for British companies like Weetabix and Swimfin.
These are some examples of how Mexico is really open to new trends and eager to welcome international brands and designers. We believe it was a great opportunity for British companies, since many of these events were a perfect occasion to show their products to the Mexican market.
We will keep looking for new ways to promote British companies within innovative environments. Our latest example is the Jaguar Land Rover event, where we highlighted the new Jaguar Land Rover models for 2013, and different British brands were able to benefit from a "Proudly Made in theUK" theme that included British fashion, music and luxury goods.
As I previously said, views of Mexico are changing. The Financial Times recently described Mexico as "the new it Latin American economy", while The Times said  that "its large number of free trade agreements, strategic geographical situation, good infrastructure and competitive labour costs make it attractive as a base for business in the growing Latin American market".  All good publicity as we enter 2013.