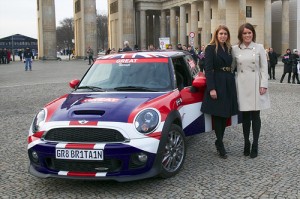 When I suggested a few months ago we might want to emblazon a Mini in a Union Flag and drive it around Germany for a year to promote the GREATness of Britain, I certainly didn't expect it would end up with the week we've just had.
But TRHs Beatrice and Eugenie, fifth and sixth in line to the throne, flew in to Berlin and officially launched our GREAT Britain MINI Tour in some style.
To choose this as their first overseas engagement really was standing everyone's reputation on the game (as the Germans would say). But, as one German paper phrased it, they really did charm their way around Berlin and helped spread our commercial message loud and clear.
Some uncharitable newspaper coverage in the UK questioned why we would be using a Mini, a German car, to promote the UK.
The answer is the Mini is not a German car, it is the perfect example of what we need to restore growth to the UK economy. Growth comes from increased exports and further investment into the UK.
BMW, the owners of Mini (and Rolls-Royce, while we're at it) have pumped nearly £2bn in recent years into their three sites across the country. These investments, among other things, have allowed the more than 5,000 workers at the Mini factory in Cowley, near Oxford, to make 2 million cars, around 80% of which have been exported around the world. Our GREAT Mini, as it drives across Germany over the next year, will be a constant reminder of that fact.
As well as the obvious benefit of the press coverage the Princesses attracted to the Mini, their promotion of UK industry wasn't finished there.
They also visited Zalando, a remarkable Berlin-founded e-commerce company - and another trade AND investment exemplar.
In four years they have gone from nothing to employing more than 5,000 and turning over ten figures selling clothes and shoes across seven countries. As part of their international expansion they have hired 30 staff in an office in Tech City - the new digital cluster that has attracted more than 1,200 companies to East London.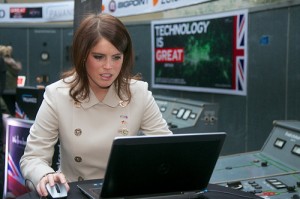 As well as investing in the UK they also are boosting our exports, selling dozens of British fashion brands to their millions of customers.
The Princesses met the founders and the very dynamic and excitable team who sell into the UK.
While at their offices, our guests also met three other German tech companies who either have, or will, invest in the UK's growing digital market.
Soundcloud, the audio equivalent of Youtube, Payango, who make personalised pre-paid credit cards (and did so for the VIPs) and computer game developer Bigpoint, who persuaded Princess Eugenie to join their 300 million online players by trying out their new offering Gameglobe. All three are exactly the type of companies we want to see expanding into the UK - and why the Princesses wanted to meet them.
Then it was off to a couple of fashion stops. Between them, they visited seven of the UK companies exhibiting at the extraordinary Bread and Butter streetwear show. From the established global brand Superdry, to the small and upcoming Apricot Clothing and Urban Knit, the Princesses wanted to hear about how these companies were reaching global markets.
From the rough and tumble of a vibrant fashion fair situated in West Berlin's old airport to the refined air of Europe's second largest department store, the princesses had a final stop to make.
Their last event of the day was at KaDeWe, the German equivalent of Harrods, famous across this country - and now known a little better in the UK thanks to a namecheck in the new David Bowie song.
The Princesses were keen to find out how brands such as Ted Baker, Wedgwood, Mulberry and Burberry were doing in Germany and delighted that the answer was 'very well indeed'.
The GREAT campaign is well and truly underway, a reminder to the world that Britain has so much to offer educationally, for tourists and for business.
I chose to drive a Mini because I thought I should 'live my job' by supporting UK exports and encouraging inward investment into Great Britain. That's also why we as an Embassy chose to have a GREAT Mini and are delighted that two Princesses came out here to launch our year-long tour.