In your old age would you prefer a dog or a robot for company? That was the subject of a heated discussion at a dinner we hosted last week for Secretary of State for Health Jeremy Hunt, featuring a range of Japanese experts on the impact of an aging society.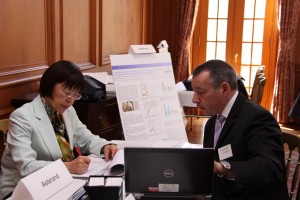 Most round the table were voting for the dog, but others pointed out the advantages of robots: they don't need to be walked or fed and don't leave unwelcome little presents on the carpet/tatami (delete as applicable).  And they can do things that a dog never could: lift an elderly person out of bed, support them as they walk, "speak" to them in their own language. Maybe it's just the terminology that's off-putting: if you call it medical technology instead it doesn't seem so absurd - after all, technology aids every other aspect of our lives, so why not elderly care as well?
As you might expect from a country with such a strong reputation for both engineering and longevity Japanese companies are at the forefront of technological developments in this field. So the annual geek-fest that is the Mobile World Congress this year featured a smart walking stick from Fujitsu that incorporates GPS, wifi, Bluetooth and a cellular radio. It will guide the user to whichever location they input, warn them of upcoming obstacles, monitor their heart-rate and blood pressure and send messages to relatives, alerting them to location, falls and "bodily functions" (too much information?). Show me a dog - or for that matter a human - who could do all of that and then sit quietly in a corner on returning home.
The dinner was just one element of a British Life-Sciences Week in Japan that drew attention to the UK's strengths in this sector, whether as a source of products and technologies, a partner for research and development or a location for investment. A mission comprising 22 British companies in the Drug Discovery space came across and spoke at seminars in both Tokyo and Osaka, as well as holding dozens of business meetings with potential customers, distributors or partners. Initial feedback is extremely positive, with most expecting to follow up the contacts they made and secure business in future. They were particularly grateful for the support they received from a couple of "mothers" in the sector - Glaxo Smith Kline and Astra Zeneca - who shared their knowledge of the market and tips for doing business. If you'd like to take advantage of their insights as well you will be able to see the excellent briefing delivered by GSK via our online channels soon. Another example of the power of (medical) technology.
Sue Kinoshita
Head of Trade & Investment, UKTI Japan