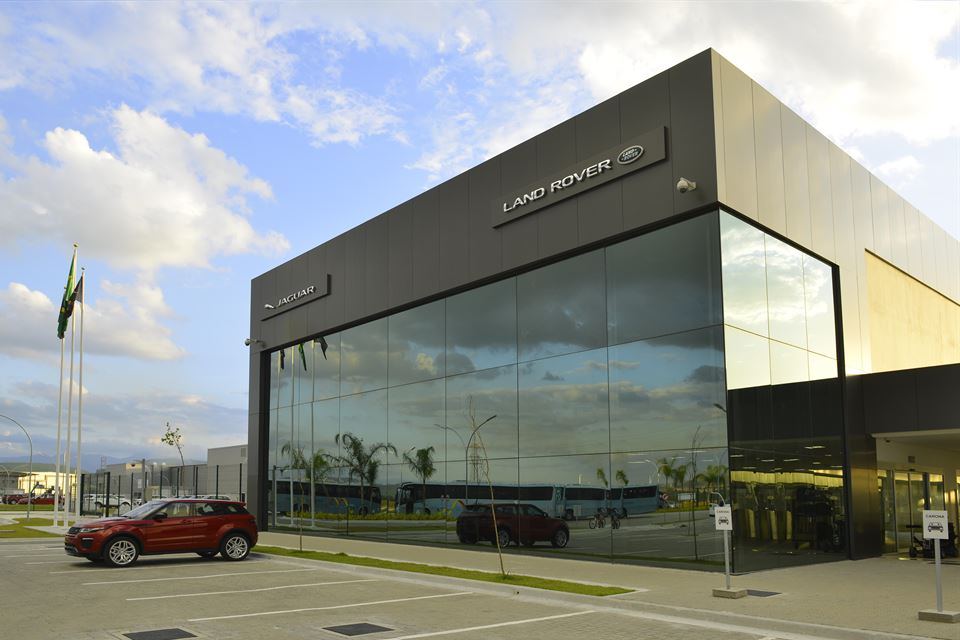 Yesterday I was at the opening of Jaguar Land Rover's first fully owned factory outside the UK in Itatiaia, a couple of hours drive from the city of Rio de Janeiro.  After 6 years of working with JLR in Brazil, first in Brasilia helping them with issues of market access, and then in Rio focused more on the factory, the opening was a big deal for me.   This £240m project, with the capacity to produce 24,000 vehicles per year is a big deal for JLR too.  They have bought into the potential of this beautiful, exciting and challenging country.
A lot has happened since the foundation stone was laid in December 2014: prolonged recession; President Dilma being deposed (at least temporarily); the exchange rate jumping from 4 reais to the pound, to 6.3 – and now hovering around 5 (for a company importing from the UK to Brazil, such volatility really matters); Brazil's biggest (and ongoing) corruption scandal; and Zika.  Brazil has seldom been out of the news, largely for the wrong reasons.
JLR's factory presents a reminder of better times but is also, more importantly, a carefully evaluated bet on Brazil's future.  Brazil's short term problems are well documented in the FT, the Economist and elsewhere, but the interim government of Acting President Temer is talking consistently about a more business-friendly and international approach.  His appointments as Finance Minister, President of the Central Bank and the heads of key state-controlled organisations, including Petrobras have been welcomed by the market.  For those of us who care about the country, let's hope this chink of optimism is well founded.
Brazil is the world's seventh largest economy and it has the fifth largest car market.  Crucially for JLR, little over 3% of that is in the premium sector (compared to 10% in more mature markets).  So the potential is huge.  JLR's investment will give their already strong brand and market share a boost.  It will also lead to more UK exports, including models that will not be produced in Brazil, more complex components and after sales service.
It has not been a smooth journey.  The macroeconomics have been challenging and adhering to Brazil's requirements for local content has not been easy – worth remembering that local content requirements are not confined to the automotive sector in Brazil.  Others, including notably oil and gas, face similar challenges.  The British Government team in Brazil have been heavily involved throughout.
In fact JLR provides a good case study of the work we do.  We worked with the company on their relations with Federal and State authorities.  The factory is in Rio State, but close to the borders with Minas Gerais and Sao Paulo.  States have varying level of taxes, different administrations, and present different challenges.  Managing relationships and moving components across those borders matters.  We've also offered support on UK supply chain companies in Brazil.  And we've worked together on trade negotiations, communications and delivery of events and activities to promote JLR and the UK.
The vast majority of what we (the Embassy in Brasilia, Consulates in Sao Paulo, Rio, Belo Horizonte and Recife, and trade office in Porto Alegre) do is focused on supporting UK companies to export – and Brazilian companies to invest in the UK.  We're here to help, as JLR demonstrates.  But companies considering Brazil need to take a long-term view and know the country isn't for first-time exporters.
I'm delighted that JLR is the latest exciting addition to the British business community in Brazil.  I'm also delighted that it means we'll see ever more Range Rover Evoques and Land Rover Discovery Sports on Brazilian streets
Jonathan Dunn took up his position as British Consul-General, Rio de Janeiro in August 2014. He worked as Deputy Head of Mission at the British Embassy in Brasilia from May 2013 to July 2014. Jonathan was previously the Economic Counsellor in the Embassy and retains a specific interest in economics and trade policy.