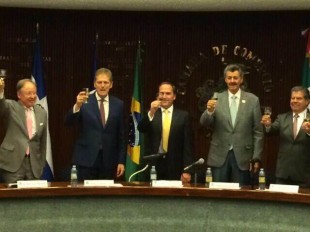 British food and drink is becoming increasingly popular in Mexico, with more new brands entering the local market. However it has been nice to see a traditional favourite, Scotch whisky, doing so well in recent months.
This is a fast growing market for whisky. Exports increased 20% last year to reach £110 million, and Mexico is now the ninth biggest overseas market for Scotch. More whisky brands have looked to Mexico to increase their sales.
Recently, senior representatives of the Scotch Whisky Association (SWA) visited Guadalajara to promote the industry and sign an agreement with Mexico's Tequila Regulatory Council. This Co-operation Agreement aims to promote these two iconic spirits, while encouraging greater co-operation in a range of areas, such as the promotion of responsible drinking.
This co-operation was reinforced by our "Queen's Birthday Party" on 9 June, organised by the British Embassy. British Ambassador Duncan Taylor with Scotch Whisky Association and Tequila Council representatives.This Party is traditionally a strong commercial event for us, and this year there were more than 20 British brands showcasing their products. Several were Scottish, including whiskies like Glenmorangie, Johnnie Walker and Ardbeg:  and even Tanqueray gin, which is now produced in Scotland.
Guests were able to enjoy their whisky while sitting on luxury furniture provided by the Scottish textile company Holland and Sherry. Biscuits and shortbread from Walkers were also present at the event, while some (Mexican) bagpipers entertained the attendees.
Demand from more and more Mexican consumers has helped make Scotch one of the fastest growing UK products in Mexico, representing 8% of all UK exports. We expect to see even more growth in trade in food and drink between Mexico and the UK.