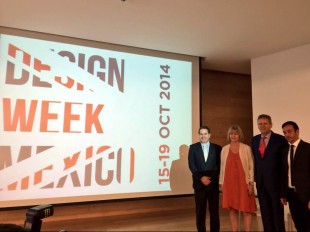 Banamex representative, Baroness Bonham-Carter, Ambassador Duncan Taylor and Emilio Cabrero, Director of Design Week Mexico.
The British design industry is the second largest in the world and the largest in Europe: it has a tradition of cutting edge innovation, and is renowned for the high quality of its designers. At the same time – and on the other side of the world – Mexico is a very creative country with a tradition of flair and style.  When I visited Guadalajara last year, for example, I met a lot of passionate designers in such areas as architecture and fashion.
Very importantly, design is great for trade. For example, the leading British designer Tom Dixon was in Mexico earlier this year to promote his new cognac bottle for Hennessy . David Chipperfield designed the new Jumex art museum in Mexico City. And Marek Reichman was recently here to open Aston Martin's showroom in the exclusive Mexico City area of Polanco. There is growing collaboration between Mexico and Great Britain in this area.
And we want more. Last week we celebrated a new partnership between the British and Mexican design industry – namely, that the UK will be the Country of Honour at this year's Design Week Mexico in October. This will be part of our GREAT Week. Design Week Mexico has forged an excellent reputation in its five years to date, with a very strong international presence. It is exciting that the UK will be so heavily involved this year.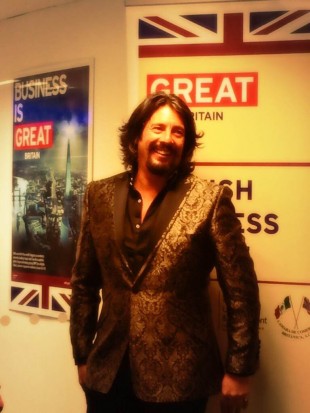 In addition, the British Business Centre – the new collaboration between UKTI and the British Chamber of Commerce to provide an increased range of services to British businesses coming to Mexico – unveiled its new "working lounge" last week. The lounge was created by renowned British designer Laurence Llewelyn- Bowen – see the picture accompanying this article.
British design is recognised worldwide for its originality and this lounge is no exception, with its impressive selection of bold prints and eclectic range of furniture. It aims to recreate a corner of the UK in Mexico.
British designer Laurence Llewelyn-Bowen, at the launch of the British Business Centre's lounge
"Design is such an international language and Mexico speaks 'style' like nowhere else. It is heartfelt, emotional and celebrates the energetic nobility of craft. So for me the opportunity to bring British style into such a glamorous design context is exceptionally exciting" – Laurence Llewelyn- Bowen.
I have no doubt that these creative collaborations will continue to flourish, especially as we head towards 2015,  the "Year of the UK in Mexico" and the "Year of Mexico in the UK".