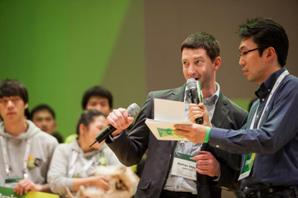 UKTI South Korea are one of the sponsors of beLaunch, an event for Technology and ICT start-ups being held in Seoul from 14th-15th of May. We spoke to Nathan Millard, beLaunch's Global Director to find out more about why Seoul is such a hot location for the Creative Industries right now.
Can you tell us about beSuccess and the beLaunch event?
beLAUNCH is one of Asia's biggest annual events for the tech and entrepreneurship ecosystem, hosted by beSUCCESS, Korea's top tech start-up media. The event aims to connect the burgeoning start-up ecosystem in North East Asia with markets in the 'West'. By inviting some of the world's most prolific entrepreneurs and investors to Korea we hope that they will realise the potential in local start-ups and also will be able to inspire start-ups here to work towards building companies that can scale at a global level.
beLAUNCH has emerged as one of the key channels between East and West that facilitates the cross-border flow of investment as well as helping Asian start-ups get discovered beyond their domestic borders. We are already in discussion with seven countries around the globe (Thailand, Singapore, the UK, Switzerland, Taiwan, Japan, & Israel) who aim to bring their local start-ups to our global forum in order to help them gain exposure and to forge business deals.
In 2014, beLAUNCH will be held in the brand new Dongdaemun Design Plaza in Seoul from May 14th-15th. We expect over 2,000 entrepreneurs, investors, media personalities and tech luminaries to join us for this festival of tech and entrepreneurship. This year topics will include; The Internet of Things, Wearable Tech, Virtual Reality, Bitcoin and Virtual Currencies, Smart Cars & Smart Home, Robotics, 3D Printing & Crowd Sourced manufacturing.
Speakers include; Eric Migicovsky (Pebble), David Lee (SV Angel), Tyler and Cameron Winklevoss (Winklevoss Capital), Ben Huh (Cheezburger), Mike Cannon-Brookes (Atlassian), Eric Alexander, Sirgoo Lee (Kakao Corp.)
Korea was recently listed as one of the world's primary start-ups hotspots by the likes of Forbes. In your opinion what makes Korea a great place for start-ups?
I think there are several diverse factors that have contributed to Korea's standing as a rising tech and start-up hub;
Top infrastructure – Korea has the fastest internet in the world and the most mature smartphone market in the world (73% penetration).
Education - Highly educated young Koreans (electronic engineers, developers, business majors), often educated in the 'West' have begun to return with big ideas and the skills to build successful start-ups.
Hunger - Young Koreans are hungry for success and to make their stamp on the world. They are increasingly looking beyond traditional employment routes and companies to achieve this. Of course, Korean's powerful work ethic is already well known around the world and this is also driving success.
High Penetration market place – Korea is a relatively small market (50M people), but its people are highly engaged, smartphones are ubiquitous and used to using tech all day, every day.
Why now? What changes in recent years have supported this growth?
The Initial bubble, 10 years ago, came too early for Korea. Now Korea is in a much more viable position in terms of economy, tech-advancement, global ambition, education, etc, to make an impact. This time the bubble will not burst so easily.
There is also a highly supportive new government in place. It has released $3.2Bn for start-ups and the creative economy over next 3 years. This is just one branch of a host of government programmes designed to stimulate the creative economy, which also includes full Government support for Tech conferences, partnership with 10 local accelerators, and an Investors match-making project.
What are Korean companies looking for from foreign firms/partners?
Koreans really struggle to 'go global'. Only a small handful of Korean companies have had truly global success (Samsung, Hyundai, LG, etc). Koreans are desperate for partners who can help them learn about new markets, build connections and gain soft landing outside Korea
We've also seen in 2013 more Korean tech firms and start-ups invest and expand abroad than ever before. How big an impact do you think Korean firms can make in foreign markets?  
The sky's the limit. Samsung is now the No. 1 tech company in the world (based on revenue) and the leading smartphone manufacturer (in units sold). Koreans believe that there is still much more to achieve and they are working to make that a reality. We will see more Korean game developers entering global market first, then other services / products will follow. Korea has had a huge impact in the global tech and auto industries and I think smaller Korean companies have the ability to piggy-back on this and make an impact.
If you would like to learn more about Korea's tech and start-up scene, join our UKTI Webinar, in partnership with TIGA and UKIE on Friday 30th May, 9.30am – 11.00am (GMT).