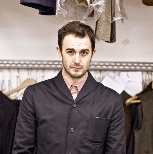 Jim Pickles, UKTI's newest adviser, shares his experiences of the industry and his hopes for London's overseas fashion sales
September's London Fashion Week is nearly upon us and will provide those in the fashion industry with an ideal opportunity to reflect on their brand, their business and their prospects for international export.
I am the latest specialist to join UK Trade & Investment London (UKTI), the government's export department.
Having run my own premium menswear brand for five years, I know the challenges and opportunities in this fast-paced and constantly evolving industry. I exported to key textile and apparel markets across the  US, Japan, Scandinavia and Russia.
I appreciate that London Fashion Week has always offered a globally acknowledged platform for young designers to get noticed and begin growing their business both domestically and overseas.
British designs are in real demand, particularly in Asia. In high-growth markets like South Korea and China consumers just can't get enough of London and British fashion, so there's never been a better time to export!
The combined value of UK textiles and apparel exports is £7.3bn and this is largely down to the universal appeal of Britain's high quality branding, rich textile heritage and the tireless innovation of well-schooled British designers.
The schemes UKTI offer, together with our specialist support and industry experience, can provide companies with a robust export plan. We can help research markets, work locally to find business leads and help give any advice and tips on local business culture and etiquette. For example, when accepting a Japanese business card you should do so with both hands, politely bow and then place it neatly on the meeting table in front of you. Never put it straight into your back pocket!
British fashion is one of the most creative in the world and is always ahead of game. Therefore your export plan needs to match this. With UKTI's help and support, your business can grow and target those lucrative markets with a high demand for British products.
To arrange an appointment with the UKTI London team, email: export@uktilondon.org.uk or call 0207 234 3050. Those of you in other areas can find your local contact here