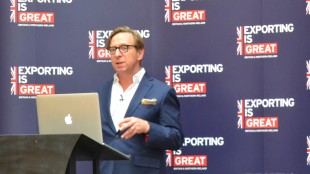 On an unseasonably sunny February morning in Reading, Roger Jones and Ben Thomas from Actionable Insight were host to 15 UK Trade & Investment (UKTI) delegates on the Digital Tools for International Trade Master Class. The purpose of this Master Class is to learn their unique 8-step methodology, which has helped companies turn their export ambitions into a reality.
Roger is a self-described "Geek in a suit" and anyone who has seen him present will know that he is dynamic, enthusiastic and ensures his sessions are always interactive.
On this particular course we had a range of businesses attending from a seismologist, a catamaran manufacturer, a mobile accessories distributor, medical equipment manufacturers and a debt recovery specialist who were all looking to learn how to improve their online presence. The delegates started networking and swapping tips and ideas before the Master Class even kicked off and this continued with enthusiasm throughout the entire day.
Roger and Ben had taken the time to research each of the delegates and their companies in preparation, prior to the workshop session. This meant that the content for the day was focussed on the delegate's companies, with consideration given to the stage they are each at with their exporting journey.
The day was broken down into 8 sessions to cover each of the 8 steps in their methodology, which include: your brand; your business objectives; your technology and your market plan.
Roger works his way through each of these 8 steps explain the impact they can have on your international business and insight into their methodology. He is helpfully assisted by Ben who is always ready to give a live demonstration of a particular process or website as Roger is talking about it.
They raise questions such as:
do you change the way you engage online with an international audience?
do you target your international audience depending on market research or on markets you like the look of?
do you know how your brand name, graphics and colours translate internationally?
what media do you use to tell your story, words, pictures or videos?
how do you make sure you find the right audience and tell them the right story?
To help answer these questions and provide focus to their research, Roger provides a number of digital tools on a range of topics. All the tools which are recommended are well researched and Roger and his team have undertaken numerous trials to ensure they know how each one works and what you can get out of them.
For example, looking into Google Analytics to investigate your websites and apps; using Brandwatch to help brands extract business-changing insights from social conversations and also utilising Performance (performance data for government services) to help you measure and evaluate certain parts of your business so you know where to focus next.
Whilst it is clear from the start that Actionable Insight are extremely knowledgeable on this subject and could talk at great lengths, they aim to keep it light and not go too geeky and technical.
The delegates were given a workbook at the start of the day and they were scribbling notes all over, making the most of having this invaluable time with two specialists who could answer all questions, which were thrown at them.
Roger wrapped up the day by answering any final questions the delegates had and stayed behind to speak to a few of them individually who wanted some extra advice.
The Master Class was a great success with delegates stating in their feedback forms:
"[The event] Exceeded expectations, excellent knowledge."
"Incredibly helpful and goes into great detail about what needs to be done to move the company on."
"Excellent class, informative and very well presented."
"Really good! A lot of content! Very well put together, from a very knowledgeable and credible presenter."
"Informative and more in depth than presumed."
Keep up to date and apply now for future UKTI events and Master Classes:
Visit: www.events.ukti.gov.uk
Email: info@uktisoutheast.com
Telephone: 0330 300 0012
Follow: @UKTI_LondonSE