As the founder of the Tri-Dosha brand,  pictured above, and a diffusion range,  I am always looking for ways to develop new relationships and increase our sales.
A couple of years ago, I'd made the decision that we were ready to really focus on export markets. We felt our products and services, premium personal care with an Indian origin, would be very interesting to certain markets.
After speaking to a number of colleagues about Dubai, I felt I had identified our first key territory and booked myself onto a buyer/supplier 4-day event, at the cost of approx. £4K.
I did indeed engage with serious buyers and had 22 one-to-one meetings, but what I realise now is, I hadn't actually learned first-hand about the market opportunity.
I had relied on second hand information, and the reality is, though Dubai customers have a strong interest in Ayurvedic therapies and premium natural skincare, they also like their goods to be packaged up in lots of fancy wrapping, and they love established brand names.
Sometime after this experience, I was introduced to UKTI's export help and advice. Within two months, as a result of their export opportunities, I have initiated conversations with potential distributors and partners in Slovakia and Spain.
These email conversations have helped us identify whether we produce the right natural skincare products for them, and from our side, we have been able to gauge how solid the lead is and whether there is actually an opportunity there. This has simply cost me my time and presentation skills !
Our conversation with the Lithuania company also led us to introduce them to our new diffusion indulgent bathing range, which we are due to launch with a high street retailer this year, as we were able to delve deeper into their customer profile and realised we could add to a line they are already offering. We sent links to our social media videos, which immediately caught their attention.
Working with UKTI, in a very short space of time, has helped me understand how important local market research is, and given me the confidence to see that there are international opportunities all around.
It is important to keep developing the relationships but also it's important that one can adapt for the changing landscape, as what works here in the UK may not work in other countries, and your product or service may require a little tweaking.
So here are my three tips for companies starting out in export:
Don't rely on secondhand information and never second guess a market. It's always best to start from scratch - do your own research as thoroughly as you can
You needn't jump on a plane right away. Establishing a relationship electronically can help eliminate obvious blind alleys, and provide a basis for future face- to-face business to be done.
Professional help and guidance, especially when it's free and provided by established and reliable resources such as UKTI, is never something you'll regret. It can save you time and money by helping you develop products and ways of doing business which are right for you and your global customers
Good luck with your overseas trading !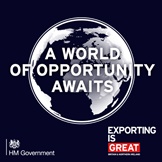 You can find global export opportunities on the Exporting is GREAT website. Visit the site for export leads, practical support and inspiration for UK companies who want to grow their business through export