"If you speak to a man in a language he understands it goes to his head. But if you speak to a man in his own language it goes to his heart"   Nelson Mandela
Building an international brand requires insight into how to build trust in new business environments where language and culture define how people think, and determine business communication and behaviours. International business flourishes where there is trust. But how do we build trust in international contexts? My first blog on this topic concentrates on an essential element of this – a business's use of language.
Speak to the heart
My opening quote draws on African wisdom and speaks volumes about the importance of language in building trust, including successful business relationships. Speaking to your international buyers in their language not only eases communication but shows commitment to building the relationship.
There are many ways of addressing language needs that needn't be costly. It could involve, for example, recruitment of students who can undertake placements in your business to carry out language and culture-related marketing, market research, sales and customer care tasks that require language skills and cultural knowledge.
UKTI's Postgraduates for International Business scheme can help you do this . Your region's Language and Culture Adviser or an International Trade Adviser can help you define your recruitment needs and facilitate the recruitment process via universities.
It's important that translation is done professionally - automated translation should be avoided to ensure your copy is presented in the appropriate 'voice', accurately and professionally. UKTI advisers (of whom I'm one) can also identify your language needs and may recommend that you undertake translation of your website and other marketing materials.
Professional translation may not be as costly as you may think - a small investment will reap rewards, enabling you to engage more effectively with your buyers and preserve your brand's credibility. A professionally translated, localised and well optimised website (or language pages within your website) will help your business to 'speak to the heart' and give you competitive edge.
But can't we just rely on English when it appears to be the lingua franca of international business?
Consider this: would you buy from a website that is in a language other than your mother tongue, or, given the choice, would you choose the one in your own language? In the digital age international buyers have an extensive choice of where to buy their products and services from - give them good reason to choose you.
According to The All-party Parliamentary Group on Modern Languages (2014), it's estimated that the UK economy loses £48 billion a year in lost contracts because of lack of language skills.
Here are my five golden rules to help you engage more effectively with international buyers and enhance your international brand:
Don't use automated online translation services
Invest in the services of professional translators and interpreters
PLAN and manage translation projects and allocate resources
Consider how you can recruit language skills and cultural knowledge as well as leveraging any hidden talent that you may already have within your business
Get help from UKTI (more on this below).
This is a two parter – look out for my next blog, which will focus on the business of relationships for building trust and your international brand.
For further information about language and culture services, companies in the North West can contact me at sara.knowles@uktinorthwest.co.uk.  Companies in the rest of the UK can find their local UKTI language and culture adviser by contacting your local UKTI office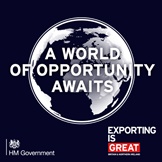 You can find global export opportunities on the Exporting is GREAT website. Visit the site for export leads, practical support and inspiration for UK companies who want to grow their business through export