Wasoukan is a 10 year old Japanese retailer specialising in traditional kimono clothing, with four stores across Japan. This December, Wasoukan will open their first European flagship store and headquarters in Notting Hill, with aims to open a further 10-15 outlets throughout Europe by 2020.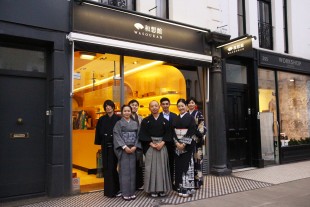 Wasoukan's overseas expansion began in 2013, when the company's President, Mr Ikeda, embarked on a trip to Europe to test initial perceptions of Japanese culture and clothing. Booking a ticket to London, Mr Ikeda explored the city, wearing traditional Japanese attire.
"I soon noticed London's appreciation for different cultures; from the plethora of museums in the capital to members of the public stopping me in the street to compliment my kimono," said Mr Ikeda. "Based on such positive first impressions, I felt that London was the best place to inform the world about our company and Japanese culture."
Mr Ikeda was also impressed with the business landscape.
"I believe that London is a fashion market leader and the centre of the global economy, there are multiple benefits for international companies looking to invest there. For example, in some countries, they do not permit foreign entities to hold a 100% share in a company that they set up there, whereas in the UK this is allowed and I was also able to register myself as CEO of our UK operations. There is also a stable government, and use of the English language helps to facilitate international business."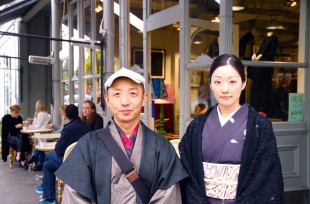 Excited about the retail and cultural environment in London, Mr Ikeda started to investigate what it would take to set up in the UK.  Luckily, one of Mr Ikeda's contacts suggested speaking to UK Trade & Investment (UKTI), based at the British Consulate-General in Osaka.
"As soon as I made contact with UKTI in Osaka everything began to run really smoothly", said Mr Ikeda. "After my first engagement with UKTI, the British Consul-General visited Wasoukan's main store in Tottori to personally ask if there was anything the Consulate-General could do to support our plans in the UK, which was a real honour."
"UKTI also invited me to the Queen's Birthday Reception, held at the British Embassy in Tokyo. This really helped to open doors, allowing me to network with other investors."
Soon after, UKTI introduced Wasoukan to UK Visas and Immigration, helping the company to submit visa applications for the representative that would lead the UK operations, and London & Partners.
"The whole process was very speedy," said Ms Chiaki Tanaka, London Store Manager. "London & Partners introduced me to DeVono, one of their partner property agents, and with their help we had secured our premises in Notting Hill within 3 months."UKTI's teams in Osaka and London, along with London & Partners, also helped Wasoukan to open a corporate bank account, and to understand UK tax and labour laws.
"Without the help of UKTI it would not have been possible for us to set up in the UK."
"I tried to work on investing in the UK on my own and the first year of doing this involved lots of hard work, time and expense" said Mr Ikeda. "As soon as I spoke to UKTI, things became much easier. I am very grateful for the support we have received from UKTI and London & Partners."
Mr Ikeda shared some of his advice to other international companies looking to set up a presence in the UK.
"I would tell potential investors to contact their local UKTI office. UKTI provide that human touch, and we really appreciated all of the support, information and hand holding throughout the entire process. I would like to tell potential investors that before they do anything, contact UKTI – it will seriously help you to minimise additional time, cost and labour. It's easy to look at the barriers when considering investing overseas, but UKTI gave us the courage and support to overcome this."
Mr Ikeda also shared the cultural and philosophical influences behind Wasoukan and the importance of translating the Japanese of spirit of harmony and peace through their business. "The best way I can describe our new relationship with the UK is by referencing the kimono and textile business.
"If the UK represents the horizontal thread, Japan represents the vertical, and by knitting the two together, starting from the UK, we can connect with the rest of the world."
"This is one of the reasons why we decided to start a business from the UK, a truly global city, knitting both cultures together to make peace all over the world."
If you are interested in investing in the UK find out how on gov.uk and if you're an international retailer or brand wanting to set up in the UK, you can also get in touch with me at denise.gonzales@ukti.gsi.gov.uk.