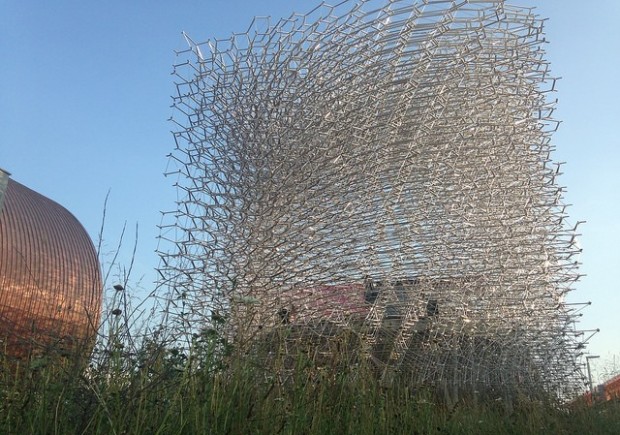 This week, Milan Expo 2015 provided yet another unrivalled opportunity to celebrate the UK offer on a world stage.
GREAT Week Sustainability saw hundreds of delegates visit UK House in central Milan. Comprised of British companies, government and multinational corporations such as UPS, attendees engaged in topics such as how to tackle human population reaching nine billion by 2050, as well as the mass movement of people to major cities.
Speakers included Peter Madden, CEO of Future Cities Catapult, who stated that migration to cities is in fact a market opportunity and the UK is uniquely placed to cater for this. Instead of arriving to the GREAT Week to discuss what a sustainable future looks like, UK companies were already armed with intellectual property, products and solutions to offer to nations tackling climate change, urbanisation and resource depletion. As an example, Paul Wilson, Managing Director of Bristol is Open, mentioned during the week that through the clever use of technology, his organisation has been able to take 25% of Bristol's waste and turn it into 10% of the cities electricity.
As well as engaging in one to one meetings and thought leadership, GREAT Week delegates also enjoyed a site visit to the UK Pavilion (pictured above)  kindly proclaimed by Professor Mario Calderini, Senior Adviser at the Ministry of Research and Innovation, as 'the smartest and most creative at Milan Expo.' The mission joined a series of activities organised for UK National Day, including a visit from Prime Minister David Cameron and Italian Prime Minister Matteo Renzi, as well as a Flag Raising Ceremony led by Lord Maude, Minister for Trade and Investment. Speaking to an international audience at the Expo site, Lord Maude wished Italy the same commercial success that the UK has been able to achieve through major global events throughout the years, using the GREAT Weeks as a shining example. The GREAT Week finished off with the delegates seeing for themselves what sustainable means to Milan itself, from how the city is bringing electric cars to reduce pollution and ease congestion to more energy efficient systems to create a lower carbon environment.
UKTI plays a key role in bringing together buyers and suppliers from around the world and creating commercial opportunities. In a few months we will be able to document the partnerships, solutions and business wins for British firms that happened on the GREAT Weeks in Milan. We look forward to sharing those, but next up is the GREAT Week Agri-Tech.
Read more on UK innovation and creativity at the UK Pavilion, Milan Expo