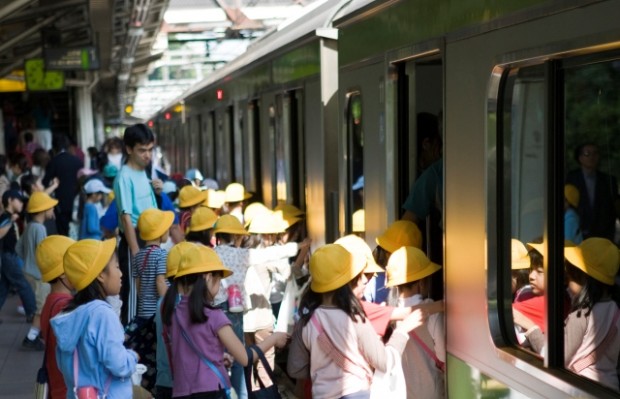 It's always reassuring to feel that you're part of a group with whom you can share challenges and ideas and best practice. The UKTI team in Japan tends to turn to our colleagues in Korea and Taiwan for that purpose. As the three developed markets of East Asia the "family" shares many characteristics: a strong Confucian culture that puts a premium on hierarchy and respect for ones elders and seniors. A strong belief in the importance of education. Investment in long-term relationships. Values that emphasise hard work and quality (our three markets get the highest scores in the UKTI world for customer satisfaction. Just saying...). Oh, and a love of karaoke and work-based socialising.
And yet they are all also completely individual. Japanese waiters will place your dish in front of you with exaggerated care and precision, while in Korea or Taiwan it may be slung on the table with more regard for speed than etiquette. A Taiwanese person will happily strike up a warm conversation with a complete stranger while a Japanese or Korean person is likely to acquire a deep interest in their shoes to avoid eye-contact. The Korean and Japanese economies are dominated by large, global companies, while Taiwan is SME-focussed.
At the risk of gross stereotyping and thereby upsetting millions of people at a stroke, I wonder if there's a parallel here with real-life families. As a look at my hippy daughter and city slicker son reveals, siblings share many attributes, while also being sometimes bafflingly different.  Birth order is sometimes presented as the cause of these differences. I've always found the arguments quite convincing, but that may be because as an oldest child they tell me I'm a conscientious, well-organised, high-achiever, which is quite a nice image to enjoy (I'll just gloss over the controlling, manipulative epithets that sometimes appear too).
So to apply the metaphor in East Asia: Japan is the older brother, anxious to please, cautious and, yes, conscientious and well-organised (and high-achieving, but then so are both of its smaller siblings - success is not the sole preserve of the first-born, as my younger brother often reminds me). Taiwan is the more carefree, free-range baby of the family, fun-loving and uncomplicated. And Korea is stuck in the middle, frustrated that it doesn't get as much attention as its bigger sibling next door despite having just as much to offer, so striking out to try to find its own way of making its mark.
I'd strongly caution against using my amateur pop psychology as a way of deciding where to do business. But I do believe that these three markets have huge amounts in common and that success in one of them is likely to be a reasonable predictor of success in the others. All are sophisticated markets that value technology, quality and good design. They have very similar business cultures and many of the areas of opportunity coincide (smart cities, creative industries, ICT, education...).  So if you're already doing good business in South Korea or Taiwan do talk to us about extending your reach into Japan. If you're already familiar with Japan and would like to make the move into South Korea or Taiwan we can put you in touch with our counterparts there.  And if they're all an unknown quantity and you're not quite sure where to start we'll be happy to join forces with our colleagues in Seoul and Taipei to do some comparative research to help you to decide.
Whichever is the case, do come and get to know the East Asia Family - they're as fascinating and varied and rewarding as your own!
Sue Kinoshita
Director, UKTI Japan