A blog on showcasing UK innovation at Expo Milan from Carolyn McCall, CEO of easyJet and one of the Prime Minister's Business Ambassadors.
Innovation is in easyJet's DNA – from our very beginning almost twenty years ago we have innovated and we continue to look for new ways of running our operation smoothly and efficiently and making travel easy and affordable for our passengers.  This is not innovation for its own sake.  It is about improving what we do – particularly reliability and punctuality which in turn improves the passenger experience.
Recently in Milan we presented a range of new and emerging technologies, many of which easyJet will be applying in the aviation sector for the first time.  We think Milan is the perfect location to talk about innovation and technology. The city is in the spotlight as it has just opened the doors of the Universal Exhibition, Milan Expo 2015 – with technology being one of its key themes.  Milan Malpensa airport is also easyJet's largest base outside the UK and is a key market, supporting the important connections between Italy and the rest of Europe.
One of the leading technologies is the use of automated drones to inspect our aircraft (below).  We have developed the drones in partnership with two innovative UK companies: Blue Bear unmanned vehicles based in Bedfordshire and Createc imaging from Cumbria.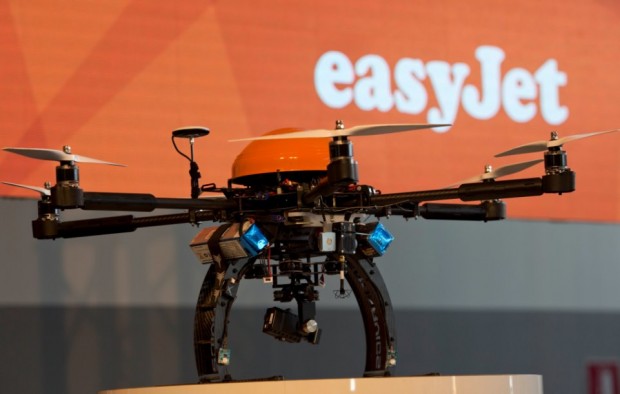 The automated drones will perform detailed aircraft checks to assess damage to aircraft, quickly reporting back to engineers on any damage which may require further attention or maintenance work. Checks that would usually take more than a day to complete can now be performed in a couple of hours and with greater accuracy.  By using drones, we expect to significantly cut technical delays.
We have completed a number of stages of the drone testing programme and expect the drones to be in active operation at easyJet engineering hangars across Europe by the end of 2016.
We also announced that we are looking at the use of 3D printing to aid the manufacturing of aircraft parts.  This would mean that the we could rectify defects across the fleet quickly and efficiently in years to come, only producing the parts we need when we need them.
The new technologies follow in the footsteps of a number of innovations which have already been implemented into our daily operation including flying our fleet of planes with entirely paperless cockpits, using apps to help to simplify processes like managing our fan blade changes after a bird strike and an app for our ops control centre to help engineers and crew resolve technical issues with easyJet's aircraft across the airline's network.
We are also innovating in how we communicate with our passengers.  Our latest investment in digital technologies is Mobile Host, a new and innovative update to our mobile app. This is a joint initiative with London Gatwick Airport, combining live data from the airports information systems, using Google indoor maps, together with a passenger's booking details, location and flight time.  The result is personalised instructions and updates for passengers during their journey.
Digital technology is allowing us to offer new choice to our customers. Our mobile app continues to be updated and we now offer a bespoke app for the Apple Watch. Customers can also choose 'Inspire Me' our app and website tool which helps them to pick a holiday destination. Or the 'Low Fare Finder' which allows customers to see all fares and choose when to travel.
We are also using digital technology to support our customers when delays unfortunately happen – due to weather or other acts of God.  There are a number of ways that we keep our passengers updated during disruption including Twitter, Facebook, SMS, Email and our Flight Tracker tool. By the end of the summer we will launch the next stage of our disruption support which will give passengers the opportunity to book hotel accommodation easily online, without cost to themselves, in event of disruption cutting out the need to queue at the airport or call customer services.
All this demonstrates that that easyJet and the British companies we are working with are continuing to lead the way in aviation innovation.
I am very pleased that we have been able to showcase this new technology in Milan and look forward to using it in our business across Europe to help us to continue to make travel both easy and affordable.
Read more on UK innovation and creativity, highlighted at the Milan Expo's UK Pavilion