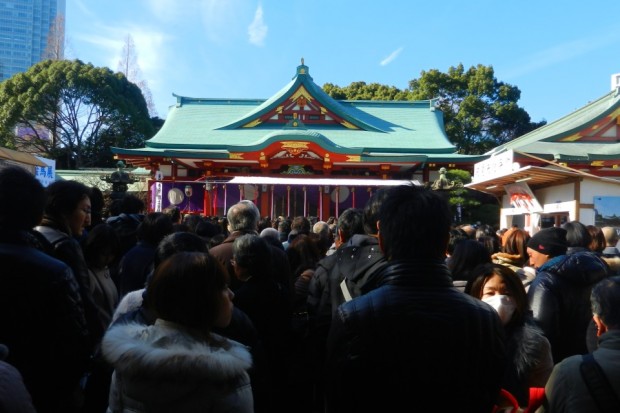 Sue Kinoshita, Director UKTI Japan, reflects on the Japanese passion for group activity in business, and in daily life
Morecambe and Wise, the Two Ronnies, Little and Large... the comedians of my childhood all seemed to come in pairs. I suddenly realised this when I was watching Japanese New Year TV, featuring the inevitable parade of celebrities - and all the comic acts were duos. Either 2 men or 2 women (never 1 of each), and all rejoicing in absurd names: Cream Stew, Audrey, London Boots... They generally consist of a straight man (or woman) and a funny man (woman), so the genre feels very familiar. Can't say I understand very much of it, but they seem to be having fun...
New Year is the closest Japanese equivalent to Christmas - the time of year when everyone heads back to their home town to spend time with their relatives, visit the local shrine and eat and drink too much - and watch too much bad TV. And the sales begin the next day too, so the comparison is complete.
But the one thing that seems to me to be particularly Japanese is that so many of these rituals, not just the comedy, are done en masse. That applies every year, not just this year when, being the Year of the Sheep, a degree of following the crowd would be rather appropriate. There are crowd control officers at all the major shrines to regulate the flow of worshippers going to pray for good fortune in the coming year. The motorways host traffic jams of up to 50km. Tens of thousands line the streets to watch the New Year's marathon. And the TV specials feature literally hundreds of celebrities competing in 4-hour long quizzes or the "Red and White Song Battle" that traditionally runs on New Year's Eve evening.
In a way this group socialising is an extension of many aspects of Japanese life. The theory is that traditional rice cultivation required neighbours to pool labour and collaborate to ensure the supply of water for irrigation, and that this culture lives on in the Japanese preference for consensus and harmony. And in contemporary Japan, where you have a population roughly double that of the UK squeezed into utilisable land the area of Wales, conforming and doing things in tandem with everyone else is something of a necessity if everyone's going to rub along amicably. You only have to see the hundreds of joggers going round the Imperial Moat in central Tokyo to see why it's sensible for everyone to run in the same direction - the odd maverick who chooses to run in the opposite direction just reaps havoc.
So what does that mean for doing business in Japan? Well, you're quite likely to find yourself confronted with a whole gaggle of interlocutors, and to wonder what role each one is playing, and who the real decision-maker is. The answer is quite likely all of them: doing business with a foreign supplier or partner is a big deal, and everyone needs to feel comfortable that this is the right thing to do. Each will have their own questions and concerns, and it's only by giving everyone a chance to voice them (probably once you've left) that consensus can emerge. Decisions are typically taken by circulating a note setting out what is to be done and collecting the signature or personal stamp of everyone concerned - so everyone, literally, signs up to the proposal (a friend told me that this process is followed in her company even if the decision required is just whether or not to buy a new box of pencils).  That means that it can take a long time for decisions to be taken - but once they have, everything will happen very quickly, as everyone has already thought about all the possible scenarios and risks, accepted them and committed to taking things forward.
There's quite a bit of concern among Japanese people and Japan-watchers that this preference for harmony and consensus is leading to too much groupthink and too little room for individual creativity, and that this is holding back Japan at a time when innovation and agility are increasingly determinants of success. As a diplomat I couldn't possibly comment, but you may want to probe your proposed partner on their openness to new ideas and to risk-taking if those qualities are important to you. And in Japan's defence I would point out that some of the big corporations have proven remarkably agile in re-inventing themselves as circumstances change (the big trading houses, for example); and there are plenty of technologies (robotics, advanced materials) and fashions (mandarin-flavoured crisps!) where Japan is very much at the leading edge and determined to stay that way.
So, Akemashite omedeto gozaimasu (Happy New Year), and if your resolution for 2015 is to give the Japanese market a try, have a read at our in-depth guide to doing business in Japan or do get in touch (exporttojapan@fco.gov.uk) - join the crowd!