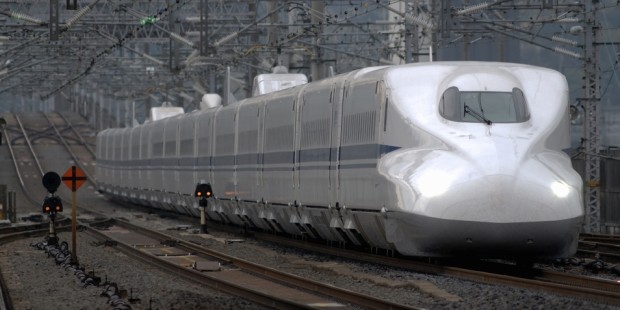 Charlotte Griffiths from UKTI Japan's marketing team takes a step into Japan's future and considers how the UK can help to build it.
Remember when Japan was the future? Think Blade Runner where Los Angeles looked more like downtown Osaka, full of neon lights and bustling noodle stands.
In the 1980s Sci-Fi's vision of the future heavily featured Japan. In everything from niche graphic novels to Back to the Future 2, it was certain that Japan's economic rise would never stop – even Tony Stark's company would team up to become Stark-Fujikawa!
When the bubble economy burst this future disappeared (or perhaps it just moved further ahead), but the image of Japan as a futuristic destination has remained. And with capsule hotels, robot restaurants and vending machines that talk, who's to argue? But all that is just surface nonsense in comparison to what's coming next...
…Flying Trains!
Oh alright, I'm sensationalising a little. But Japan's super high-tech Maglev train is coming. The test track is up and running in Yamanashi and the short ride which reaches 505km/h is reportedly "epic".
In September 2014 Central Japan Railway Co. received the go-ahead for its ambitious project: to construct a magnetically levitated train line between Tokyo and Nagoya (cutting journey time from 100 to 40 minutes) by 2027, and to extend the line to Osaka by 2045 (cutting travel time from 138 to 67 minutes).
However, whilst Japan certainly deserves its excellent reputation for trains, the UK can take some credit for this particular futuristic project. Back in the 1940s it was a British engineer who developed the first full-size working model of the linear induction motor and in the late eighties the world's first commercial automated maglev system connected Birmingham International Airport to its railway station.
British Invention
And the maglev is certainly not the only example of UK tech exported to Japan (and the rest of the world). Frank Whittle is credited with invention of the turbojet, and it was a British design which led to the first successful hovercraft…the list goes on and is not limited to modes of transportation! The UK has a long history of invention and is well respected for this in Japan, creating a variety of opportunities in different markets.
Japan can be a tough nut to crack but, as with maglev technology, if your idea/product/service finds a niche, there are no limits how successful it could be. To find your way into the Japanese market contact our trade advisers for a free market assessment, keep an eye on our current opportunities page and look out for industry-specific events – online, in the UK and in Japan. Just remember: innovation is the key.
And if you're into trains…
The world-famous bullet train (known locally as the shinkansen) is now fifty years old. Sleek, speedy and safe, the shinkansen has an average delay of 36 seconds, zips from Tokyo to Osaka in under three hours, an unblemished safety record and seats which spin. In terms of doing business out here this efficient infrastructure is a huge plus, making domestic travel a pleasure.
There are big plans already underway to extend and improve the shinkansen network with lines stretching to the northern island of Hokkaido and improvements to the southern lines of Kyushu. Admittedly the Japanese rail market is a pretty closed shop, but UK companies have been making headway with partnerships in Europe such as the one between connectivity company Nomad Digital and Japanese Hitachi Rail Europe. Such partnerships have great potential to build all-important trust with Japan in order to create export opportunities in Japan, both in the rail network and elsewhere. For more information on partnership options, read our page on finding the best route to market in Japan.
Back To The Future 2 hinted that by 2015 Japan would dominate the world's economy; it may not be quite at that point, but Prime Minister Abe is certainly determined to make it so. And with policies which could boost corporate profitability, high levels of interest in UK innovation and an incredible train network to travel between meetings on, what's stopping you stepping into the future?