For the last month UKTI have been busy running a series of events called GREAT Weeks. Here is a snapshot of two recent GREAT Week events, along with wins for British companies who attended these vital trade missions in the world's fastest growing markets.
GREAT Week Hong Kong & Macao: 7-13 March
UKTI welcomed 34 UK companies to GREAT Week Hong Kong & Macao, with the aim of the trip being to introduce these companies to key decision makers in the region and to celebrate British creativity and innovation. Delegates enjoyed briefings, workshops, meet the buyer events, networking receptions, retail site tours and regional business speed networking.
Success stories
As a result of attending, each company reported promising leads, follow-up meetings and significant education on the region. Here are a few examples of successes gained for UK companies on the mission: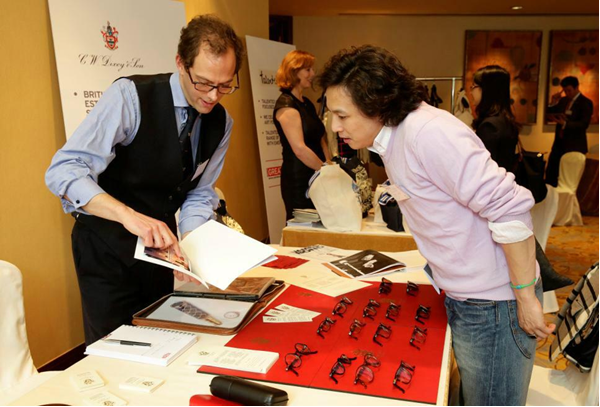 Fox's Biscuits reported an order of 14 new lines of product from one supermarket chain, and first time interest from another.

Holden's Breweries are now selling their bottled beers to importers, distributors, bars and restaurants in the region.
C.W. Dixey (pictured), makers of luxury eyewear, were so successful that they ran out of stock. They now look forward to selling eyewear in exclusive optical stores in Hong Kong.
Celebrity guests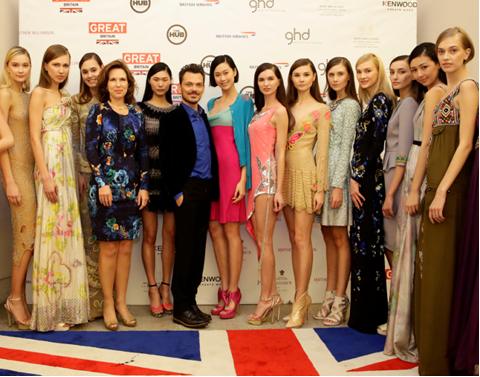 The event was also supported by Sir Robin Knox-Johnston CBE, British fashion designer Matthew Williamson and Michelin-starred chef Jason Atherton. Matthew Williamson greeted guests with an exclusive catwalk show, while Jason Atherton provided an all-British menu for food writers and industry buyers, as well as supporting an EBLEX promotional event for English beef. The endorsement of such high profile British guests added significantly to the festivities, as well as generated strong media coverage for the trade mission companies.
GREAT Week UAE: 16-20 March
Immediately after Hong Kong & Macao, UKTI took over 40 companies in the Design, Luxury and Retail sectors to showcase their products to the region at GREAT Week UAE. Led by Lord Livingston, the delegation was warmly received at the Dubai Chamber, who were very keen to have UK brands represented in one of the world's most popular retail destinations. During the same week, well known British brands Fortnum & Mason and Lulu Guinness launched in the region.
Support from government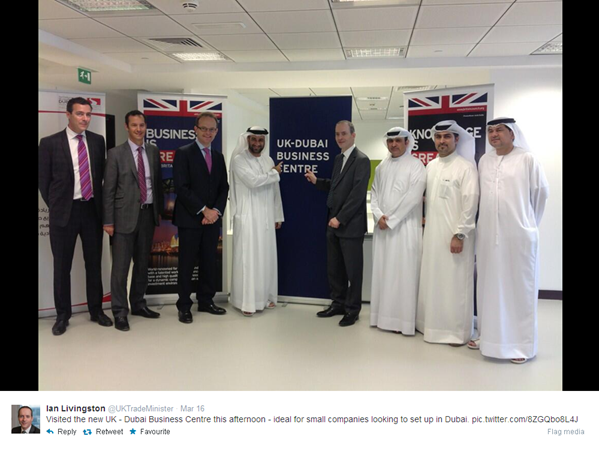 Lord Livingston also visited the UAE British Business Centre (pictured below) - a brand new, furnished incubator space for UK SMEs coming to the UAE for the first time. Lord Livingston helped to resolve the final legalities before the centre finally opens in April, creating a vital base for UK companies looking to expand into the region.
Networking
Networking opportunities during GREAT Week UAE included a mix of business workshops, panel discussions and one-to-one meetings on opportunities across the MENA region. UKTI also invited local partners to join in on the action, resulting in delegates such as British bridal wear designer Shell Belle Couture discussing logistics around opening a store in the region. House of Fraser was also in attendance, and spoke with delegates such as UK-based luxury leather brand Mark/Guisti on the possibility of opening a concession in their Abu Dhabi store.

Commenting on the success of GREAT Week UAE, Pauline Chisholm, Senior Manager (Franchise and International Operations) at ASDA said: "I would recommend these events to businesses looking to expand into international territories as an opportunity to gain great market insights, meet prospective customers and business partners."
The opportunity to learn something new is usually the biggest draw for most business events – but coupled with networking, inspirational celebrity guests and deals being done – GREAT Weeks are fast becoming a key event for British companies with global ambitions.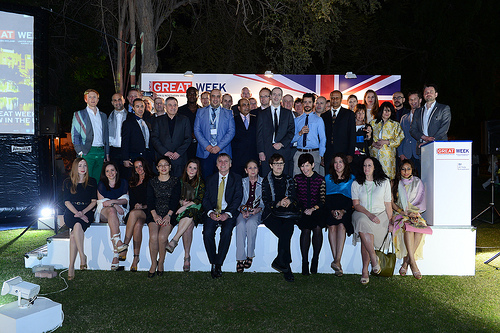 To hear feedback and live updates directly from the delegates, search #GREATWeeks on Twitter. If you would like to register your interest to attend the next GREAT Week event, please visit www.greatweeks.co.uk