I did wonder when Prime Minister David Cameron held a summit this week with Italian Prime Minister Matteo Renzi whether he might have artfully left a copy of Italian Vogue lying around Number 10.
I have one in my office, and I was pleased that one of the companies we supported at Milan Fashion Week 2014 is featured, tipped, indeed, as "One to Watch".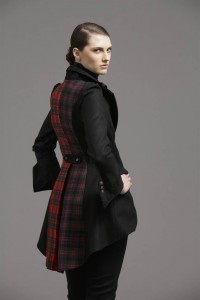 Edinburgh's Judy R. Clark is a remarkable designer. She trained with the late, great Alexander McQueen, and won Scottish "Womenswear Designer of the Year" last year. Her clients include artists such as Emeli Sandé.
Italians love Scottish style: from the tartan, to the design, to the luxury materials.
So it's no surprise that Judy R. Clark went down so well. She follows in the footsteps of Henrietta Ludgate from Dingwall, who came to Milan in 2011, the same year she became Scotland's "Young Designer of the Year". Jaggy Nettle and Eribé also had very positive experiences, and now sell knitwear and accessories in top-end Italian boutiques alongside designer names such as Prada and Balenciaga.
Fashion is not the only thing about Scotland that interests the Italians.
Campari Gruppo own the Speyside distillery that makes Glen Grant, the number one brand of Scotch in Italy, and number five in the world.
We've been busy promoting Loch Duart salmon in Milanese eateries and Scottish "slow food" in the country that invented it (the movement started after a 1986 demonstration against a fast-food restaurant that was going to built at the Spanish Steps in Rome).
In the oil and gas sector, Rosetti Marino, ENI and Versalis have all invested in Scotland, and from its operational hub in Inverness, Falck Renewables manages wind farms across Europe.
In fact, in the last financial year alone, we have seen Italian investment into Scotland of over £60m in sectors such as energy and advanced engineering.
I may have no direct Scottish links in my family, although my son studied in Scotland and I have many happy memories of visiting him at university.
But when it comes to promoting Scottish goods overseas, I think the value that I bring, and the value brought by my wonderful team in Milan (take a bow Marina Iremonger, Head of Fashion & Design) is our knowledge of the market we're in.
UK Trade & Investment (UKTI) works together with Scottish Development International (SDI). We provide an international network in 169 locations, they provide the expert advice close to home. In my view, it's a system that works really well.
I hope to see many more Scottish firms coming to Italy, as there is a clear appetite from Italian customers, and they are pushing at an open door.
We have so much in common, as you can see if you visit the website of the Italian Dr. Who fan club, where there is an article about Peter Capaldi entitled "Il Vestito del Dodicesimo Dottore".
They're keen to find out more about the Twelfth Time Lord, an Italian Scot by birth. But what they really want to know is what he'll be wearing in the next series.
Companies interested in  doing business in Italy can find out more on the UKTI website at http://www.ukti.gov.uk/italy.