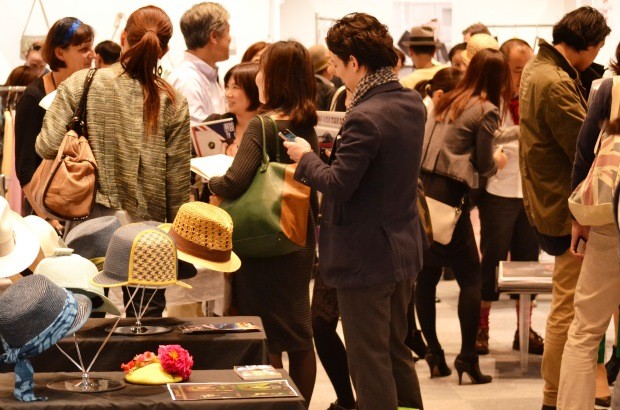 When you're jetlagged and new in town it's handy to have a Fashion Map of Ginza, showing you where all the major retailers are located. Especially if you're a fashion or lifestyle company visiting Japan for the first time.
Next week, one of our senior International Trade Advisers, Jim Pickles, will travel to Japan with a group of British companies. Some of those companies will be exploring the market for the first time. UKTI are working closely with the UK Fashion & Textile Association (UKFT) and British Jewellery & Giftware International (BATF) to deliver a full programme to enable British companies to showcase their brands in Japan. The aim of the visit is to help British companies get the most out of meeting buyers and understand the advanced local retail market.
A lot of the work starts here in the UK. Preparation is essential in getting the most out of an overseas trade mission. Before the companies travel, UKTI will have already advised companies on business etiquette; how to get their collection to japan; and of course how to get around, which is where the map comes in. I used it myself the first time I visited Japan. It helped me to quickly get a snapshot of the Japanese retail environment despite not knowing the language or the place. Jim however, does speak Japanese. He spent three years there teaching English as a foreign language and prior to being an International Trade Adviser for UKTI he ran a premium menswear brand selling to Japan as well as other overseas markets.
International trade advisers' business experiences are crucial when discussing new markets. In the case of Japan, historically there are multiple options of intermediary: agent, importer, distributor, licensee and a unique feature of the market - 'general trading houses'. These play an important role in dealing with foreign companies, carrying out various functions such as acting as sales and distribution intermediaries, providing finance, licencing and joint ventures.
Each trading company offer differs and some are more fashion focussed than others, so companies need to do their research and consider the best option for their business. In the early days of export it might be better work direct, then to appoint a local agent, then later explore a licencing model if the brand has achieved traction.
UKTI can offer advice on these routes to market, give you impartial feedback on potential partners and encourage the right strategy for long-term success – Japan is a slow burner! We'll also help you to understand the core department and select stores in Japan, where they are based (the map comes in handy) and whether your products have a particular USP for the retailer's target customer. This year's mission programme will include group meetings with the creative director of United Arrows and an in-store Q&A with the buying team at Isetan, 2 of the most important stores in the market.
UKTI, UKFT and BATF will help the companies on this trip identify the right channels and prepare to sell to the right buyers. The team departs on the 3rd November with 30 British brands, ready to build relationships with a range of Japanese buyers. Find out more about doing business in Japan: https://www.gov.uk/government/publications/exporting-to-japan/exporting-to-japan
Tune in as we take fashion around the world #UKTILDNFASHION