Home to last year's G20, Brisbane is again in the spotlight hosting Liverpool Football Club on their Australian visit. Last night UKTI Australia partnered with Brisbane Marketing and Trade and Investment Queensland to host Liverpool FC Executives at a 'trade and investment dinner' with 76 contacts from Australian businesses and with UK firms.
Billy Hogan, Chief Commercial Officer Liverpool FC, Officer Olly Dale, Commercial Director Liverpool FC, John Coolican, President, Australian Rugby Union, and Matt Logan, Chief Executive Officer, Absolute Board Co. made-up the business dinner's speakers panel. The guests who attended included growing, innovative Queensland companies expanding and setting up in the UK, and also UK firms selling their goods and services into the Queensland region.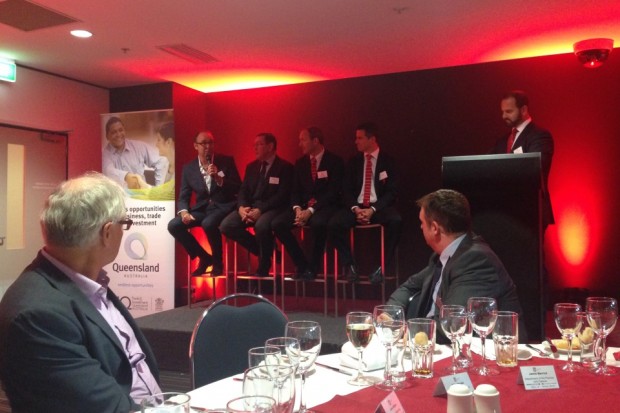 It was fantastic to hear the panel (above) discuss the business of sport, sports branding, and how social media engagement with loyal customers (and of course fans!) play such an important role in business for football and rugby clubs and for sports and lifestyle businesses. The panel shared personal experiences of how they got into the business of sport and it was quite mixed – John Coolican had grown up playing rugby but had trained as an orthodontist before turning professional, Olly Dale told of being convinced to change career in one phone call from Mohammed Al Fayed.
Matt Logan CEO Absolute Board Co talked about the skateboard business' expansion into the UK, and with the help of UKTI, had gone onto re-export products into Europe and Russia. Matt also talked about the skateboarder as a unique and independent consumer, and engaging through social media channels was a necessity. Liverpool FC Executives agreed, Billy Hogan revealed that the club had engaged with 2 million  fans who had 'liked' Liverpool FC's Indonesian page in the last week or so.
Billy Hogan also shared some insights about the logistics of the Asia tour. They had travelled to Australia with 120 people, and it felt like playing in a rock band stating "yeah, we played Bangkok two nights ago". Olly Dale mentioned that the airlines and the newer planes had made it more comfortable to travel to Australia and the importance of making it to Australia to play and see the fans. Liverpool FC  has amassed a global fan base 580 million fans!
The highlight of the evening was Liverpool Legend Craig Johnstone's closing appearance talking about Liverpool's honest culture, the club's hunger to 'win the tackle', and the similarities between sport and business. He regaled with stories of old; his family selling the house to send him to England and play football for Middlesbrough only to be told he was rubbish, signing for Liverpool, scoring 30 goals and making 190 appearances, now a legend.
The work that had gone into Liverpool FC's tour was staggering. In the margins, support staff were busy on their blackberry's arranging the next morning's TV meetings, and responding to requests for information on the new away kit which was unveiled in Brisbane only an hour before the panel discussion.
In my introductory remarks, of course I touched on Britain and Australia's sporting rivalries – there were too many to mention. But I also talked about how the UK economy had positioned itself as the destination of choice for Australian firms considering a presence in Europe. UK corporation tax was decreasing from 20% today, to 19% by 2017 and to 18% by 2020. And as per the Chancellor's statement last week, the UK was again, set to be the fastest growing developed economy in the world for the second year running (3% GDP growth in 14/15 and 2.4% OBR forecast in 15/16), faster than that of America, of Germany, and twice as fast as France.
The trade and investment dinner took place at Suncorp Stadium under floodlights during the Liverpool squad's evening training session. Tonight sees Liverpool FC take on Brisbane Roar at Suncorp Stadium at 1845 AEST.
Craig O'Kane
UK Trade and Investment Australia
If you're an Australian company or entrepreneur looking to invest in the UK you can contact Craig at Craig.OKane@mobile.ukti.gov.uk