The British Embassy recently welcomed Her Majesty Queen Elizabeth II and HRH Prince Philip to Germany. The public interest in the visit was overwhelming with wide coverage of the event in the media, and a real buzz and excitement within the cities.
To take advantage of this interest in all things British, the UKTI teams in Düsseldorf and Berlin put on two amazing promotions. At KaDaWe , the luxury department store in Berlin (pictured above)  we had the GREAT British Weeks where well known British brands were showcased over a fortnight. The store windows and internal displays brought together the well known brands Burberry, Mulberry, Jo Malone, Ted Baker, Hackett, Topshop, Jimmy Choo, Wedgewood, Duchy Originals from Waitrose, Charbonnel et Walker, Tiptree, Windsor Castle Tea of London, Fentimans, Tanqueray and Laphroig.
At Kaisers, an upmarket supermarket chain, they also used the state visit to bring in some British products that are new to the chain into around 150 of their stores, as well as those already on the shelves: Windsor Castle Tea, Gordons gin, Glenmorangie whisky, After Eight, Hegering English Wine Gums, McVities Digestives, Deans of Huntley, TT Sauce, Mackays conserves, Glen porridge oats, and Tate and Lyle syrup. These products are familiar to shoppers in the UK, but they are also likely to fit in with the tastes of the German market. We even noticed in a few of the Kaisers, that they were offering a traditional English breakfast in their cafés!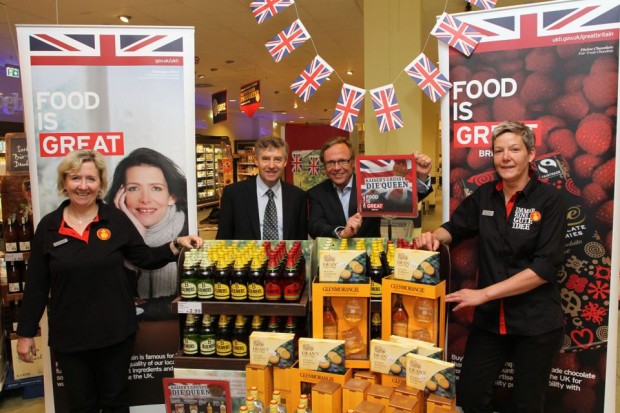 Germans tend to be quite traditional in their tastes, and will stick to their own brands, but they do like the variety that British food offers, alongside the quality we can offer. They particularly like British packaging, appreciating its creativity and style. When it comes to food the Germans are very price sensitive, but they are prepared to pay more if the product is unique or suitable for a particular diet – veganism, for example is big business here.
For brands, whether they are retail or food, getting into the German market takes time, and we hope that through the excitement of the State visit and our GREAT campaigns, we will be able to accelerate growth for a number of them. Of course, there are not always the high profile opportunities like the state visit for us to showcase the best of British. This means that usually, for brands, doing business in Germany takes persistence. They can expect to attend trade shows for consecutive years and be continuously promoting their products. Business revolves around the use of importers and distributors- its much easier for businesses, whether you are in the UK or Germany, to have that single point of contact.
Germany continues to be a market of interest for UK companies, and we expect this to continue. With a strong economy, easy access to Eastern Europe, a strong domestic consumer market of 81 million people, and English as a common language for commerce, it is a GREAT place to do business.
UKTI helps many thousands of companies increase their profits and grow through export and inward investment every year
Find news and services information from UKTI
Arrange a meeting with a UKTI international trade adviser (UK cos. only)