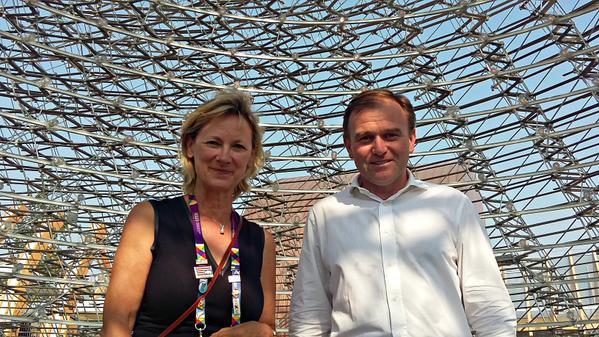 "The UK's smart farming solutions will enable us to feed the planet"
Professor Malcolm Mitchell, SRUC Research
In my previous blogs focused on global business success catalysed by Milan Expo, I have spoken about how UK companies benefit from GREAT Weeks in terms of business being done, contacts made and inspiration offered in the form of thought leadership at UK House and the backdrop of the UK Pavilion at Milan Expo.
Our recent mission - GREAT Week Agri-Tech - saw UK government host and facilitate the meeting of over 300 industry leaders from the agri-tech community, including IBM, Rothamsted Research, Velcourt, Elanco, the National Farmers Union and Fall Line Farms. There was a diverse mix of corporates, scientists (including Professor Mitchell, quoted above), government officials, farmers and investors in the room.
The week focused on real, worldwide solutions to the Expo theme of 'Feeding the Planet, Energy for Life.' Day one also saw George Eustice MP (Minister of State, DEFRA) provide a keynote speech, where he announced UK government's 25 year food and farming plan, which was met with delight from the attendees. At the end of each day, businesses were also given the opportunity to visit the UK Pavilion at Milan Expo, to see how UK government was representing their sector to millions of visitors wanting to find out more on the UK's unique contribution to feeding the planet.
Topics included food security, climate change and sustainable use of critical resources such as water, energy and land. Delegates also looked at how to meet the huge demand of 9bn people projected to be on this planet by 2050, with an estimate of 60% more food required. That includes aquaculture production needing to double by 2050 to satisfy global demand, according to the FAO (Food and Agriculture Organisation of the United Nations).
GREAT Week Agri-Tech also saw solutions for the sector being presented, such as innovations in management, technology taken from other sectors such as aerospace and automotive as well as bespoke packages dependant on different parts of the world requiring different solutions.
Scottish Michelin-Starred Chef Tom Kitchin provided food for delegates during the week, and has also curated the July menu for visitors to the UK Pavilion at Milan Expo. We are soon to reach 500,000 total visitors to the UK Pavilion since opening on 1 May, so that is a lot of international guests to inform, inspire and educate on why the UK takes the lead in overcoming global challenges!
The programme was delivered in partnership across Whitehall, with relevant government departments following up with each business that attended to track commercial outputs from the week.
Please see a round-up of all social media activity that occurred during the GREAT Week on Storify
Our next GREAT Week focuses on the UK's consumer, retail, food and drink and creative industries, as well as Milan Fashion Week.