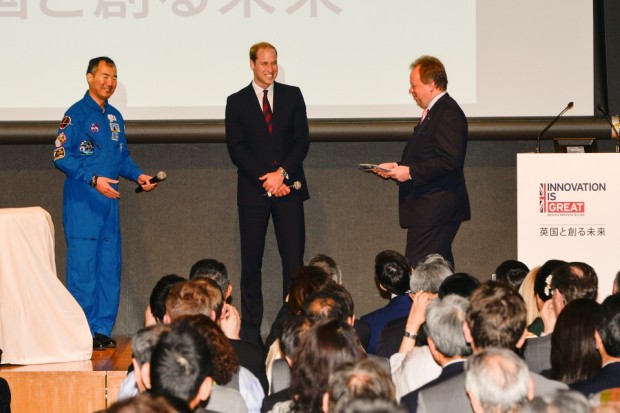 A prince, an astronaut and a CEO walked into a hotel... Sounds like the start of a tall story or a bad joke, right? But it actually happened the other day in Tokyo, when Prince William, Japanese astronaut Soichi Noguchi and Aston Martin CEO Andy Palmer joined forces to launch an Innovation is GREAT campaign that will run in Japan over the next year or so. It was great to see the three of them striking up a real rapport in their few minutes together on stage, with Prince William expressing his admiration for anyone brave enough to go into space, his envy of anyone who was actually paid to live and breathe Aston Martins and his own more down-to-earth childhood dream of becoming a policeman.
According to some research that the British Embassy recently carried out, the words most commonly associated with the UK by Japanese people are "tradition" (by a long way the most popular answer), "gentleman", "royalty" and "handsome", ("lady" was also in there, though disappointingly not "beautiful". Must try harder). Also, less flatteringly, "cold" and "arrogant". Some of those things serve us well in selling to Japan - luxury brands, Royal Warrant holders, and menswear suppliers can all tap into those stereotypical images and sell products on the back of their heritage and quality.
But companies in the technology or engineering space have to work a bit harder to establish their credentials. Although the UK has more than its fair share of Nobel prize winners, and is responsible for most of the technology that helped Japan to modernise in the 19th century - railways, sewage works, lighthouses - there is relatively little public awareness of the UK's current strengths in research and innovation. When I tell Japanese friends that their smartphones are using British-designed semi-conductors and imaging technology, the ATM that they used to withdraw their cash is a British innovation, or that the jet engine that powered their holiday flight was a British invention and quite possibly made in the UK, they usually look sceptical. Yet all of these things are true.
So the Innovation campaign is designed to introduce Japanese businesses and consumers to a side of the UK that they don't usually appreciate, and to initiate UK-Japan partnerships that will promote greater innovation still. It's been shown that joint UK-Japan scientific research is cited 2.5 times more than the average, so clearly working together unleashes some special creative spark. The same is true of commercial applications as well as basic research: the Suzuki-Intelligent Energy hydrogen-cell motorbike is one good example, and Rolls Royce engines made in conjunction with Kawasaki Heavy Industries, Mitsubishi Heavy Industries, Sumitomo Precision and a host of other Japanese companies is another. And it's great to see British and Japanese astronauts working together on that ultimate scientific endeavour, the International Space Station.
So why choose Prince William to launch the campaign? Well, of course we could be sure that he would attract the media attention that we needed to get the campaign off to a good start (we weren't disappointed - his name was the top trend on Twitter during his visit). But also he (and indeed the Aston Martin brand) represents a natural link between the tradition and history that the Japanese associate so closely with the UK on the one hand, and on the other the spirit of modernisation and innovation that allows the Royal Family/British economy to continually reinvent itself for a new era. We also hoped that his friendliness and accessibility might help to dispel those notions of coldness and arrogance. So a subtle exercise in rebranding Britain by taking the familiar and extending it in new directions. Will it work? Well, time will tell, but we're certainly going to try!
If your company is interested in being involved in the campaign, whether as a sponsor, partner or participant in some of the events that we're planning, or if you are interested in talking to potential Japanese partners to help move forward  your own innovation ambitions, do get in touch with us at exporttojapan@fco.gov.uk
Sue Kinsohita
Director, UKTI Japan