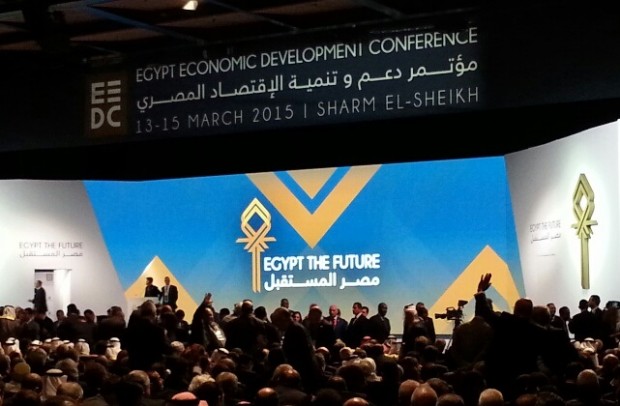 Egypt has for a number of years predominantly hit the headlines due to political and security instability. Naturally, this has had an impact on the levels of foreign direct investment and the new Government of President Abdel Fattah-El-Sisi have been working hard to turn the fortunes of the country around.
A key element of these efforts manifested itself in the Egypt Economic Development Conference which was held in the luxurious resort of Sharm El Sheikh from 13-15 March and attracted a stellar cast of thousands – Phillip Hammond MP led the UK delegation, ably supported by Tony Blair, Hugh Robertson, Paul Collier as well as a number of other CEOs. Private planes lined the tarmac at Sharm airport. Bob Dudley and Jeff Immelt (CEOs of BP and General Electric) rubbed shoulders with the King of Bahrain and the Emir of Kuwait.
The headline announcement was a new administrative capital for Egypt to be developed within the next five years at a cost of US$ 45bn. This alongside the development of the Suez Canal Zone  and the expansion of the existing Canal due to open later this year. John Kerry, the World Bank and IMF all spoke of the need to improve transparency, openness and tackle corruption. Meanwhile, Gulf leaders (the UAE, Saudi Arabia and Kuwait) praised the President and reasserted their "friendship" and commitment to a stable Egypt in the form of US$ 12bn of investment and loans. The World Bank announced a doubling of their financing for the next four years to US$ 5bn. EBRD committed to financing 23 projects at a cost of US$ 750m.
Businesses announced a number of major deals. UAE based Capital City Partners will lead the development of the new capital. Organisers claim at total of US$ 38bn in deals were signed, including US$ 12bn announced by BP and US$ 4bn by BG. Particular emphasis was placed in the agriculture, housing, industry/manufacturing, ICT, Oil & Gas, mining, tourism and logistics sectors.
The conference exceeded everyone's expectations and was an important step on Egypt's road to economic recovery. The challenge will be for the Government to now deliver on the many pledges made.
The opportunities are there for the taking so if you are looking for a new business opportunity, jump on a ship which is transiting the Suez Canal and make your destination Egypt. Take a look at our guide to Doing Business in Egypt or get in touch with a member of the UKTI Egypt team cairo.trade@fco.gov.uk
Jason Ivory
Director, Trade & Investment, UKTI Egypt