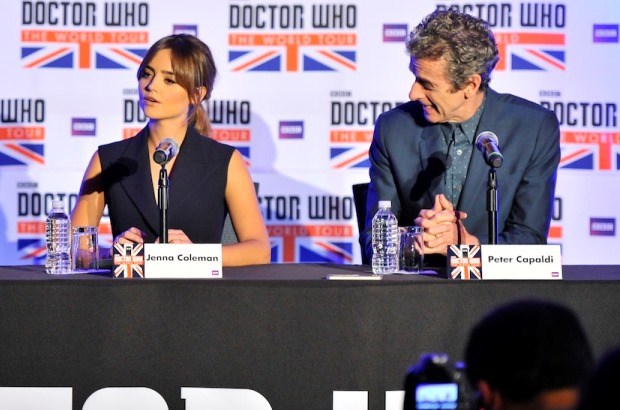 As I write this, my first blog as Interim Head of Trade and Investment for UKTI Mexico, Tropical Storm Dolly has just swept through Mexico City – bringing with her a deluge of rain, high winds, thunder and lightning. It was quite an experience and, like many, I underestimated it and got very wet!
Aside from the heavy rain, Mexico also seems to be awash with business opportunities at present! The Mexican Government's recent energy reforms, which open up the country's massive oil and gas sector to international development for the first time in over 70 years, present potential investment opportunities that could be worth as much as US$30 billion a year. And UK companies across the UK oil and gas industry are understandably starting to look again at Mexico, exploring opportunities to bring their world-beating expertise to this exciting market.
They, like most British businesses, will find themselves well placed to win business here. One of many things that has surprised me during my first few weeks here is just how highly the UK is regarded in Mexico – from Union Jacks in taxi windows and a national radio station that plays two hours of The Beatles every day, to a widespread respect among the Mexican people for British goods and services – there is a palpable knowledge and affinity here for the UK's brands.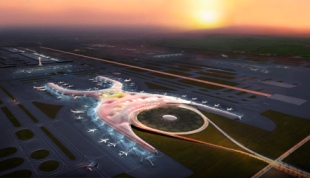 One such UK brand that has been attracting a lot of attention here in recent weeks is Foster + Partners, which just won the contract to design Mexico City's massive new airport (left) in collaboration with local design company FR-EE. With an estimated total cost of £7.7 billion and an initial capacity for 50 million passengers per year, (rising to 120 million when the six runways are completed!), the new Mexico City airport will be one of the biggest in the world. But more than this, it will be an icon for modern Mexico, and the first impression that most international visitors will get of this great country. I was fortunate to meet Lord Norman Foster and Fernando Romero (owner of FR-EE) on the day of the announcement to join in the celebrations – where I also got to meet the latter's father in law, the world's richest man Carlos Slim. Another very pleasant surprise!
On the subject of recent events, last month UKTI organised a reception for a Lloyds of London delegation at the Ambassador's residence, where I was astonished to learn from Lloyds' visiting Director of International Markets that the UK currently collects over £400 million a year in insurance premiums from Mexico. This figure is higher than in any of the BRIC markets, and is growing strongly. On the back of this extraordinary growth Lloyds is hoping to open an office in Mexico early next year, with the help of the UKTI financial-services team.
A million miles away from Lloyds and the financial-services sector, but in the same city, the UK's creative industries were on full show at the Mexico leg of the BBC'sDr Who World Tour. 3,000 Mexican fans packed into the Teatro Metrópolitan for a special preview screening of the new Dr Who series, along with a Q&A session with Dr Who himself Peter Capaldi, his sidekick Jenna Coleman, and lead writer Stephen Moffat. The Doctor, his tardis and the daleks visited seven cities around the world – with Mexico City the biggest of the events.
We're planning to showcase more of the UK's creative industries sector in Mexico during our upcoming UKTI Mexico GREAT Week, from 9 to 19 October. UK companies in the art, design and music sectors will be taking part in a week of activities organised around Mexico Design Week and the Corona Capital Music Festival, alongside UK airports companies which will be undertaking a tailored programme of sector briefings, meetings and networking events in and around Mexico City. If you're a UK firm thinking about taking advantage of opportunities in any of these sectors, the GREAT Week is a fantastic chance to make the right connections and potentially start exporting to Mexico. You'll have to be quick though – the deadline for applications is 17 September!
So, after three weeks full of surprises, it's no shock to see the UKTI team is busier than ever, supporting UK companies to capitalise on the wealth of commercial opportunities that exist here in Mexico. Aside from theGREAT Week, we have an upcoming visit by HRH The Prince of Wales, a UK delegation visiting for Green Expo, an outward mission to Innovate UK, and the International Book Fair in Guadalajara all before the end of the year. And at the same time we're busy preparing for what will be biggest celebration of British creativity in arts, culture, innovation and business ever to take place in Mexico – the joint 'Year of the UK in Mexico' and 'Mexico in the UK' 2015. Keep an eye out for future blogs on all of these activities.
But, before any of that, we have Mexico's Independence Day to look forward to on 16 September. Having never experienced one before it's sure to be a day full of more surprises. ¡Viva México!
Follow UKTI Mexico on Twitter, LinkedIn and Facebook, and read recent publication Mexico, A Destination for Growth: Market opportunities for UK retailers.
UKTI helps many thousands of companies increase their profits and grow through export every year
Find news and services information from UKTI
Arrange a meeting with a UKTI international trade adviser