The large black SUV with the skull of a Longhorn strapped to the front dropped me outside Pappa's BBQ house for my breakfast tacos.
Welcome to Texas.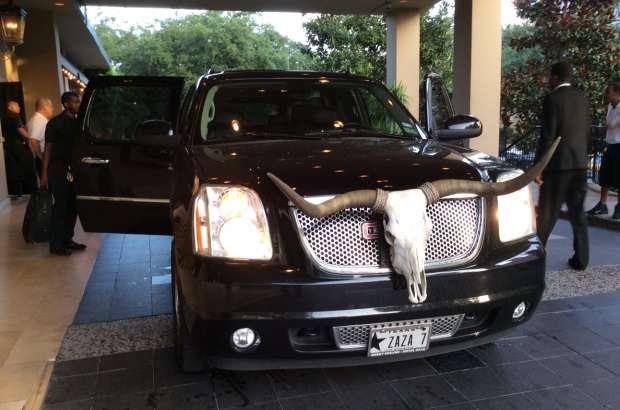 After turning up late due to terrible traffic I parked my rental car between a Bentley and a Rolls-Royce before heading into a Malibu restaurant containing at least one A-list Hollywood star.
Welcome to LA.
At a dinner to discuss opportunities for UK exporters, the conversation quickly moved to how amazing the city was, how there is more to the US than the two coasts - and then the weather.
Welcome to Chicago.
Then at a breakfast meeting to discuss the long-term prospects for the UK economy, I was the only one a) not working in the tech world or b) wearing a tie.
Welcome to San Francisco.
Having visited all four of my posts since arriving in my new role as UKTI Director for West Coast USA, the stereotypes were already proving accurate.
But to look at just the stereotypes is to miss the point of our relationship with America - and the vast opportunities that abound.
As I dined with some oil and gas tech entrepreneurs in Houston, of course they talked up their city - and their state - as the centre of the universe.
Of course, in confident voices, they talked about the importance of Houston - part of a state with an economy the size of South Korea's - as a global centre of excellence for oil and gas.
But there was space for them to also recognise the strengths of the UK, of our levels of entrepreneurship and innovation.
They admire our products and services and talked us up as business partners - Texans love Texas but they also love the UK.
In fact they love it so much the UK is Texas' number one source country for inward investment projects – more than 20% come from us - and they have exports totalling $4.2 billion from the UK.  In California, the story is similar. Across the state nearly 80,000 Californians work for British companies, and over 100,000 Brits work for Californian companies.  285 UK companies operate in Southern California alone. In San Francisco (where you really shouldn't be wearing a suit let alone a tie) they know they lead the world in tech and innovation.
But they also know that the sort of early stage research that leads to the disruptive technologies that will change our world are just as likely to come from the UK.
You only have to look around the tech scene to see how many Brits and British companies are now part of the furniture in the Valley – ARM, WanDisco and Swiftkey to name but a few.  There are also Brits in high level positions in almost every major company, including Sir Jony Ive, SVP of Design at Apple, Alex Shultz, VP of Growth at Facebook and Duncan Logan, Founder and CEO of Rocketspace accelerator, just to name three.
Further south in California, the Brits are similarly leading the way in Los Angeles.
Our actors are storming Hollywood, winning Oscars and Emmys alike and we also attracted £860m worth of Hollywood dollars to the UK last year. The relationship is strong, getting stronger and flowing in both directions.
Chicago, overlooked in so many ways despite being the President's hometown, is more than just part of what some might unfairly call a flyover state. The centre of the country is home to British investors 3M, Procter & Gamble and Ford.  Between the three of them they employ 24,500 people in the UK.  Other companies of note include Caterpillar (12k), Mondelez (6k) and McDonalds (90k). 234,100 Midwesterners go to work for British owned-companies and with an economy the size of Germany's, attracted $9.4 bn of UK export in 2013. After a month in this role, the scale of the opportunity on even just one side of the US is immediately obvious.
Wherever you find yourself, there is a company eyeing the UK as an investment opportunity or a procurement manager or customer with a desire to buy British - not always because it's the cheapest product but because of the value or quality.
You just have to appreciate that they all do it here in a different way, this is a country of many and varied markets.
Every state has its own identity, its own economic strength and its own long list of British exporters and inward investors.
And its own stereotypes.
UKTI helps many thousands of companies increase their profits and grow through export and inward investment every year
Find news and services information from UKTI
Arrange a meeting with a UKTI international trade adviser (UK cos. only)