UKTI Asia Task Force Showcase member Charles Baughan, Managing Director of Devon-based Westaway Sausages, has seen his premier sausage range flying off the shelves across Asia.
In this guest blog Charles gives his top tips for success in this market and tells us why Asia is so important to his business
It is thrilling to be doing so well in Asia, but you certainly need plenty of energy, passion and dedication to keep up with the pace of change and opportunities in Asia.
The story of Westaway Sausages path to Asia started back in 2008 when by a stroke of good fortune. I was contacted by a friend with a great networking opportunity. I had the chance to meet some buyers over from Hong Kong and showcase our products to them. In their ensuing visit to our factory, our fate with Asia was sealed as every single buyer wanted to stock our sausages! The rest as they say is history.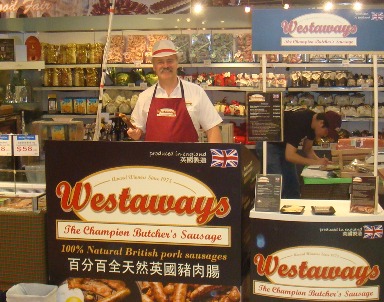 Westaway's journey in Asia has been both challenging and rewarding in equal measure. Building trust and loyalty with partners in the market is the key to success.  As a small family business, I found out that family values and integrity go hand-in-hand in this market.
In Asia, you have to be very flexible in your approach and respond quickly to the market and what it wants. On my first visit I paid special interest to gathering information on how much consumers in Hong Kong (not just expats) already knew about sausages and how inquisitive they were about our brand. Similarly, I was also surprised to discover just how highly regarded British food brands are in the market - thanks to Britain's reputation for high food safety standards.  This certainly helped build trust quickly among retailers and consumers.
For Westaway, the greatest vote of confidence in our product is this We are the only European meat company approved for import of meat products into Japan and first UK sausages ever to be sold in Japan. As you can imagine this was a very proud moment for everyone at Westaway Sausages and all who've helped us achieve this.
My top tips for doing business in Asia
•  Go there to learn about the market and how your products might need to be adapted to suit the market
•  Build trusted and honest relationships with your partners. Eat their food, meet their families, develop friendships and respect their knowledge and integrity
•  Be committed to export, there will be great successes and the odd surprise along the way. Play the long game
•  Keep up with their ideas and live at their speed! Have the energy and revenue to develop as fast as they want you to and be prepared to work long hours like they do
•  If appropriate use your personality to build your brand - I'm always in my white Westaway butcher's outfit, it gets me talked about and people in Asia love to have their photo taken with me!
Charles and many others who have had success in Asia will sharing their top tips and experience at UKTI's Asia Task Force's event, 'Explore Asia: your path to success, on 19 March 2013.
Join Charles and UKTI experts from 12 Asian markets at the InterContinental Hotel Westminster, London, SW1H 9JS, 09.40-16.00
For more information, please go to www.businessinasia.co.uk