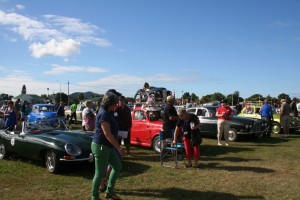 About 200 British cars were displayed in Gisborne's Rectory Field this morning – a fantastic sight on another beautiful morning. Around 100 were our ralliers and the others were from the local car clubs who turned up to enjoy the fun. Gisborne Mayor Meng Foong welcomed the ralliers and then waved us off on the way to Napier.
The Jaguars were enjoying the great driving weather and attacking the smooth curves, some of them a little bit too much as the four speeding fines clocked up by the Ralliers showed. One of the chastened speedsters was none other than HC Vicki Treadell who publicly owned up at the reception in Napier and then paid the same amount as her fine to charity – calling on the other leadfeet to follow suit. The Napier reception was every bit as warm as the beautiful summer weather and the Twin City Stompers mellow jazz set the scene off perfectly.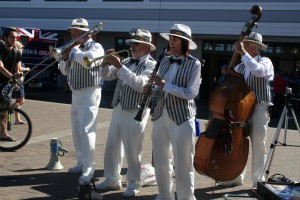 While the Ralliers stayed in Napier to wash the dust from their throats I headed to headed to the lovely Elephant Hill Winery for a business dinner with the rest of the UKTI team. Hastings District Mayor Lawrence Yule and the local New Zealand Trade & Enteprise team had brought together a fantastic group of local businesses with interests in the UK. Vicki reminded an audience of mostly food and wine producers of the UK's close ties with Asia – Tesco has 120 supermarkets in China and nearly 50 in Malaysia – so for some NZ companies, the route to sell into Asia could well be through the UK. Lawrence claimed that the produce from the Hawkes Bay area was as good as anywhere in the world – and after enjoying one of the best meals I've had in some time, I was in no place to disgaree.
I also had a chat to artist and designer David Trubridge who exports beautifully crafted lightshades, jewellery and furniture, often composed of naturally-styled interlocking wooden leaves, to Australia, the US and Europe. While US sales in particular are very strong the UK and European market is lagging and David is heading over to the UK soon to meet up with potential partners and distributors.
Jake Waddell, Head of Commuication, UKTI NZ and Australia