A hectic start to Day 2 with a business breakfast at the hotel hosted by HC Vicki Treadell where New Zealand Trade and Enterprise and UK Trade & Investment talked to local companies about doing business in the UK. It was great to get time to talk to the local companies about how their companies were doing in the UK and outline how we could help. The diversity of Tauranga's economy was shown by the businesses round the table with a darts manufacturer Puma Darts, Comvita the natural health and skin care manufacturer and Trimax the global mowing company all currently doing business in the UK and thinking about expanding their operations there.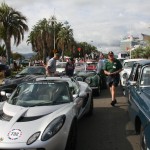 Then Tauranga turned out en masse to wave us off and we were lucky enough to be joined by Greta Hulme, widow of racing car champion Denny Hulme who won the 1967 Formula 1 F1 Grand Prix as well as national radio station Classic Hits.
The rally then wound its way past a lazily erupting White Island before lunching in Whakatane where the friendliest helpers so far (and there has been tough competition) made sure our cars were parked and we'd been fed and watered before hitting the road to Gisborne. The Jaguars, Bentleys and Aston Martins made short work of the gorgeous sweeping curves through the long mountain-clad gorge and the Alexander Dennis bus too easily swept up the switchbacks and hairpins before rolling triumphantly in to Gisborne.
And what a welcome in Gisborne! Early Ralliers were treated to free boat rides around Poverty Bay – where Captain Cook first landed in NZ – before a fantastic traditional welcome performed by Hauiti Kapa Haka roopū.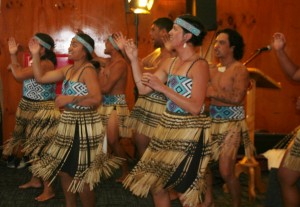 Business wasn't finished for the day though - the CEO of the Gisborne Chamber of Commerce, Gavin Murphy headed up a delegation of local companies that wanted to talk to UKTI about their British interests. The businesses were mainly in the primary industries with wine and foodstuffs featuring heavily, many of them were selling successfully into the UK and looking to take the next step. One innovative company that impressed with its products and growth prospects was Go Bamboo which designs, makes and sells a range of fully biodegradable, non toxic products made out of bamboo including toothburshes and clothes pegs – a very young company, getting very positive feedback and doing well selling its products to Britain.