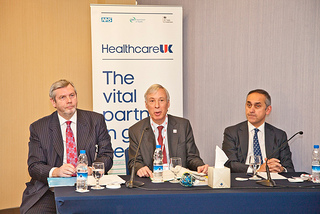 Arab Health in Dubai is a bit like Christmas – it comes round only once every twelve months but it's a great time for meeting up with friends you haven't seen all year.
This year, Arab Health was special because it had been decided to launch Healthcare UK at this major event, the second largest healthcare exhibition in the world. Attended by over 80,000 people and with exhibitors from every part of the globe including 240 British companies, this was a great place to host the launch with a seminar for 160 specially invited guests followed by a reception and VIP Dinner in the majestic setting of illuminated fountains looking out on the spectacular Burj Khalifa, the tallest building in the world.
The seminar was graciously hosted by Earl Howe, the Parliamentary Under-Secretary in the Department of Health and the keynote speech was delivered by Lord Darzi, Chair of Surgery at Imperial College London and UK Business Ambassador for Healthcare and Life Sciences. Other speakers included John Myatt from Serco, Professor Valerie Wass, Chair of the Royal College of General Practitioners International Committee, and Dr John Parry, Clinical Director of TPP. I was able to make a presentation on what Healthcare UK is all about and what we hope to achieve as the new focal point for international partnerships with British healthcare expertise.
The VIP Dinner was attended by the Ministers of Health from Kuwait and Oman and many new friendships were made as well as old ones renewed. We can't do a launch of Healthcare UK every year but we certainly hope to come back in 2014 to share our experiences of healthcare innovations and service developments. Meanwhile we aim to follow up on the fruitful discussions with Ministers and senior healthcare providers to explore the interest they expressed in Healthcare UK's priority areas: Primary Healthcare, Infrastructure, Digital Health, Education & Training and Health Systems Development. Representatives from some of the UK's oldest and most famous hospitals - Moorfields, King's, Guy's and St Thomas', Royal Free, The Christie, Marsden, Brompton, Papworth and Great Ormond Street Hospital - were all on hand to talk to interested parties and make their own arrangements for future interactions.
We also managed to make a visit together to Abu Dhabi to see the ground-breaking Imperial College London's Diabetes Research Centre and meet with senior representatives of the Health Authority Abu Dhabi (HAAD) and SEHA, the healthcare providers organisation. Abu Dhabi has shown a keen interest in some of the aspects of our UK healthcare services such as primary care, education & training, and digital health and the precedent set by Imperial College in establishing the Diabetes Research Centre augurs well for further UK/UAE collaborations. Every representative of the UK organisations was given locally-grown fresh dates as a token of Arab hospitality - which caused much good-humoured debate about the causes of diabetes!
If business is based on friendships and building trusting relationships, then Arab Health will continue to be a great place for Britain to do business with Arab nations for many years to come. And next year there should be quite a few more friends to meet up with over dates and Arabic coffee.