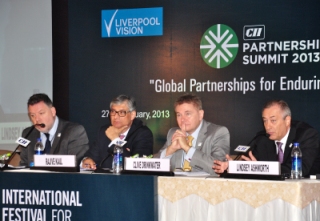 It's always fascinating to go back to a country that you haven't visited for a while.  So it was with my visit to India last week, my first for about nine years.  My parents used to live in Kerala and I negotiated a joint venture in Calcutta during the late 90's but I've only visited sporadically since.
My visit was in part to speak at the CII conference in Agra; CII is the Indian equivalent of our CBI and this was a high profile event opened officially by the Vice President of India, Shri M. Hamid Ansari.  Some colleagues and I talked about the International Festival of Business that we are hosting in Liverpool in 2014 and signed an agreement to work together with CII to promote the event.  There was huge interest in the festival and it promises to be the place to be in international business in 2014.  I look forward to seeing many of the businesses we met coming to Liverpool and taking their full part in proceedings.
The other key reason for my being there was to investigate why, as a region, our exports to India are struggling to grow, particularly in contrast to or exports to other high growth markets such as China, Russia or Turkey.  The opportunity is clearly there.  Infrastructure spending has grown recently. I travelled to Agra from Delhi (passing the newly built F1 track) on a fantastic new expressway which, on a good day, cuts the journey time down to about three hours.  The new airport is a dream compared to the one that used to greet me in the '90s and although growth in the economy is down to just below 6% it's still healthy and expected to ease back up towards the 8% level in the next couple of years.  There is a middle class in India that likes to spend; estimates put this at around 200m people and perhaps rising to 500m in five to ten years' time.  We have strong cultural ties.  You're as likely to be asked the cricket score on the streets of Delhi as you are on the streets of Manchester and English is the language of business.  Why then do we see a shortage of new businesses taking a look at the opportunities?
India is a huge country and you treat it as one market at your peril.  To be successful you need to consider what presence on the ground you need.  Understand what import tariff your product attracts as some are still high and could be a disincentive for your customer.  Above all, you will need to visit regularly.  This is no hardship. India remains a warm welcoming country with a rich culture that has to be seen to be believed.  The sight of a luxury BMW passing by an elephant and a camel on the street will never leave me. The message is to get to there, experience what India has to offer and enjoy it.  The rewards can be there for businesses prepared to put in the effort and we really do need to make sure that the UK is positioning itself to take advantage of the rewards from high growth emerging markets such as this.