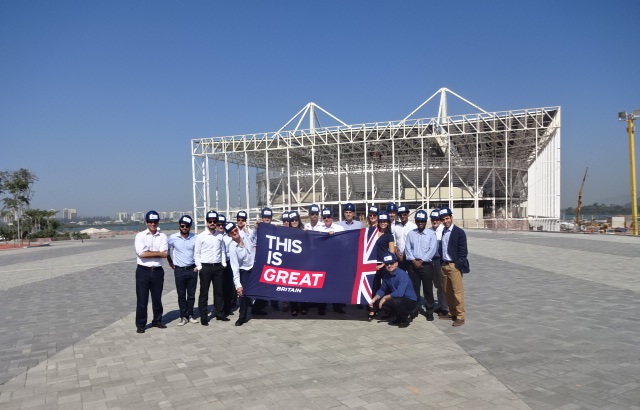 With less than 100 days to go to the Rio Olympics, Brazil is going to be in the headlines a great deal. The Games will show off Rio's spectacular scenery and infrastructure to great effect. Whilst most of the infrastructure is completed, there will be more opportunities for London companies to provide services to the Games themselves, the host of sponsors and visitors that will be in Rio during the event.
London played its part in handing over the torch to Rio de Janeiro and continues to develop close businesses relationships to make the most of trading with the world's 7th largest economy. Exporting to Brazil is not new, here in the UK, we have been trading with Brazil for over 200 years.  The UK-Brazil Joint Economic and Trade Committee (JETCO) took place in October 2015, emphasising cooperation and mutual growth; further strengthening ties between our countries. Last year, Brazil imported £3.6 billion from the UK. £1.4bn of this, you'll be surprised to hear, comes from the service industry. So there is a significant opportunity for growth in London's large service sector.
So let me tell you how some London companies from the Sports sector successfully exported to Brazil; how they came to meet key stakeholders in the Rio 2016 Olympics and Paralympics; and how they accessed the right support on the way there:
They all at some point got advice from UKTI London's Sports expert, Brian Dent, who is a Senior International Trade Adviser in the region. It's Brian's job to be focused on opportunities in the sector. He is our go-to person here in London, for companies to find out about opportunities; and he did this for both the 2014 Football World Cup and the 2016 Rio Olympics and Paralympics. He has taken more than 70 companies on Market Visits to Brazil and helped them maximise the potential to win contracts. Brian's advice is clear:
You can only do business in Brazil if you are prepared to do business on Brazil's terms – that means visiting the country (and committing to be there regularly).
Working closely with your customers and local partners to identify what your true unique selling features are in this country.
Managing the bureaucracy and extended time-lines that are a part and parcel of doing business there.
So how does Brian get the companies export ready? He cites three important factors:
Ensure companies understand the business environment: by providing intensive briefings with the experts and partners, both in the UK prior to visiting Brazil. This gives companies an understanding of Brazil's legal and cultural uniqueness and how to navigate both.  Brian's role, as an International Trade Adviser, is to assist companies to prepare well before they attend a Market Visit.
Identify and introduce UK companies to the right contacts in Brazil: our overseas teams get access to people that you are unlikely to reach on your own. Brian worked with his locally-based colleagues in Brazil to provide support before, during and after the visit.
Network and learn from others: on trade visits, you get to travel with other UK companies. You share ideas and learn from others' experiences, both on the visit and afterwards. Brian ensured the London companies followed-up after the trade visit to help them convert the leads gained into real business.
Brazil is the World's 7th largest economy, covering a land-mass bigger than Europe, with a proud history and ambitions to enhance the living standards of its 200 million inhabitants. Brazil doesn't come to you – you need to go to Brazil. Or, on this occasion, Brazil comes to London!
Brian says, "travelling to overseas markets is always expensive and time-consuming, so having the opportunity to meet with representatives from our overseas teams here in London is an excellent first step. It will help you understand whether there might be a real opportunity for your product or service in their country; and get some pointers as to what it might be like doing business there."
Brazil is the largest economy in Latin America and is looking for UK companies to provide expertise in a number of sectors including Financial Services and Healthcare. The Brazilian government is currently placing an emphasis on improving health. 25% of drilling royalties the Brazilian government receives (from oilfields in the "pre-salt" layer) will be invested in health. And there are currently 12 hospital infrastructure projects in Brazil that London businesses could be working on. You can find out more about these opportunities in Brazil and others, without even having to leave London.
On May 17th we have experts right here in London from Brazil and 11 other Latin American markets. The UKTI event (supported by supported by Santander) will provide you with the opportunity to talk about live export opportunities, face to face.  The sectors you can directly speak to someone about are: Healthcare, Education, Oil and Gas, Marine, Infrastructure, Financial Services, Automotive and Mining. Register today for the chance to take part in group discussions and book 1-2-1 specialist meetings on doing business across Latin America.
Pick your Market of interest from: Argentina, Bolivia, Brazil, Colombia, Costa Rica, Cuba, Dominican Republic, Ecuador, Mexico, Panama, Peru and Venezuela!
Parveen Thornhill
Director, UKTI London