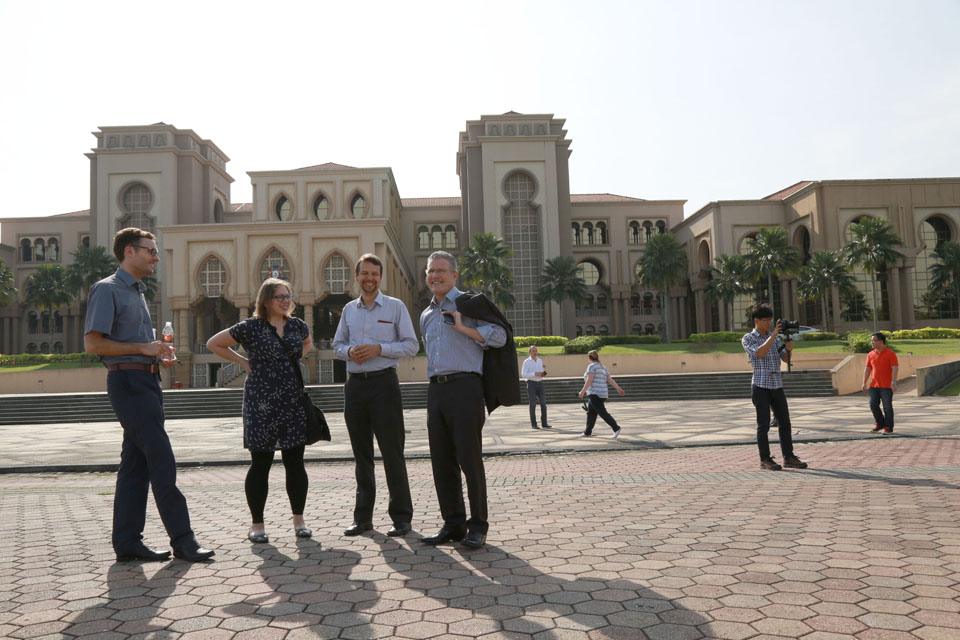 Innovate UK and UKTI recently worked together to organise a mission to help companies into new markets. It was a great success, and a great experience for me, and I wanted to share some of my knowledge of entrepreneur missions and their benefits on this blog.
Why go on an entrepreneur mission?
Breaking into a new market is no easy feat, not even for a large company. For a small one, it's often not even part of their thinking. This is understandable of course, as the innovators we work with are close to flat out already to keep up with the demands of growth.
So why do we think they should be generating that growth overseas?
The reality is, if businesses don't start thinking global early, chances are by the time they do, it will be too late.
It would be reckless though to suggest our promising young companies should be taking an unguided leap into the dark, and our entrepreneur missions are designed to prepare them for success in the markets we carefully select.
Preparing companies
The companies that apply are assessed against rigorous selection criteria, and then 'hot-housed' prior to the mission. Specifically we:
give them insights into what it takes to do business in the target market, including from people who've been there and done it
train them intensively to develop and refine their pitch to potential investors and to suit the target market
bring them together as a cohort and get them to collaborate and to support each other
present them to the press as part of a comprehensive approach to raising their public profiles
prepare them to engage with the media
offer coaching support to build their confidence in what they're about to do
On the mission itself, they are then given the opportunity to meet potential customers, partners, investors and other influential stakeholders (eg Government officials), and to visit sites of opportunity. These are things that a small company simply could not achieve alone.
Connected Cities example
From March 14-18 this year, I led, with UKTI, the first 'Connected Cities' entrepreneur mission to Malaysia and Singapore, taking ten of the UK's most promising SMEs with us. These are both promising markets for urban innovators but for different reasons.
Malaysia is one of the region's fastest developing economies – growing by 6% in 2014. Most major cities are now implementing a Smart Cities programme, and new cities are being built as a result of:
urbanisation
congestion
pollution
pressure on public services
Singapore is a highly developed nation on a crowded island, with no natural resources; so developing innovative solutions is in their DNA. Their Smart Nation programme aims to make Singapore the world's first smart country – their key challenges being:
an ageing population
mobility and data
cyber security
It's also one of the largest venture capital markets in Asia and has a strong eco-system for start-ups.
From new market to advanced test bed
In the UK, we are at least 85% urbanised. This means a lot of our urban challenges are around retrofitting and reinvention.
In Malaysia, on the other hand, what we were able to see is what possibilities exist when you start from scratch.
We were initially based in Cyberjaya, a new city just next to Kuala Lumpur and successfully developing as a Multimedia Super Corridor with a lot of tech companies basing operations there.
Putrajaya, the new Government administration district next door has been designed in a more integrated way than is evident from the way we operate in the UK; for example, instead of repeatedly digging up roads to install or repair infrastructure services, they have installed common utility tunnels to avoid this.
Arriving in Singapore, I was soon amazed at how much more developed it had become since my previous visits in 1988 and 1996. All of it seems meticulously planned and with quality of life front of mind, for example, the architecture of new buildings, like the ArtScience museum, is simply stunning.
What also became evident though, once we started engaging with locals, is that the city is not afraid to experiment. Indeed, one aspect of the Smart Nation programme is the conception of Singapore as a 'living lab', and we experienced first-hand the ecosystem around innovation and entrepreneurship that is making this real. As well as being somewhere we can contribute to, Singapore is also a place from which we can learn.
Making connections, doing deals
Experiencing the level of noise at each of our networking events was also a highlight as it showed just how much enthusiasm there is in both countries for working with UK partners.
The outcomes of the mission have been excellent. In both countries strong connections were made, and deals are being negotiated.
And finally, a personal highlight was my first ever television interview!
Entrepreneur missions are hard work for everyone involved. There is a lot going on constantly – business meetings, site visits, receptions, 1-2-1s with potential partners and clients, and media interviews. This requires both stamina and a good sense of humour and it's clear that all our participants had this (we chose well!). The feedback has been excellent.
Future missions: India
Urbanisation is a global challenge, as underlined by the fact that one of the UN's Sustainable Development Goals, SDG 11, is focused on it.
Opportunities exist everywhere and we are keen to maintain the momentum of this first mission by running another, to India, in November.
India has an audacious ambition to create 100 smart cities and is investing heavily in this. The UK is already engaged in this through the Newton Fund, the Prosperity Fund, and through the work of the Future Cities Catapult so it is an ideal destination for the next group of innovators who want to make their mark on the world.
If you'd like to know more about the India mission or register an interest in attending, you contact me at: Niraj.Saraf@innovateuk.gov.uk.
I'm also on Twitter:  @NirajKSaraf