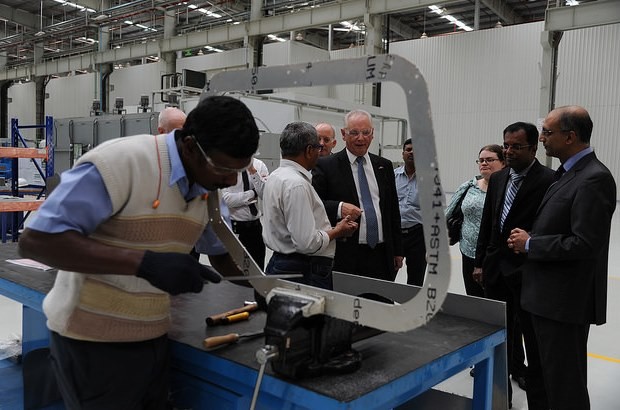 Last week was an exciting time for all of us here in UKTI India - the two senior most leaders responsible for the UK's trade and investment were here to build business. They were also participating in the UK and India's largest annual conglomeration of businesses leaders, the India UK Business Convention (IUKBC) 2015
The Rt. Hon Lord Francis Maude of Horsham, Minister of State for Trade and Investment, made a tri-city visit to India - Bengaluru, Mumbai and Delhi from 8-11 September 2015.
Lord Maude arrived in Bengaluru to a packed day of meetings and events, beginning with meeting the Chief Minister of the Indian State of Karnataka, Mr. Siddaramaiah. Both leaders laid the foundation stone of a new GlaxoSmithKline (GSK) factory at Vemgal, Hosakote near Bengalaru. The factory will help create 232 new jobs in the Karnataka village.
His next stop was at Mumbai - India's commercial capital where Lord Maude met key existing and potential investors in the UK, including Cyrus Mistry of the Tata Group - often cited as the UK's largest manufacturing employer – employing 45,000 people in the UK.
He also signed a MoU with the Government of Maharashtra which paves the way for collaboration on a range of healthcare issues, including professional skills development, digital healthcare and motorbike ambulance services.
From holding deliberations with top business and political leaders, Lord Maude also had a chance to interact with young Indians at the prestigious Indian Institute of Technology in Mumbai. Here Lord Maude announced a new venture in Financial Technology called "Fintech Bridge" - a fast-growing area of business providing IT solutions in the financial services industry.
Leading celebrations on Her Majesty's longest reign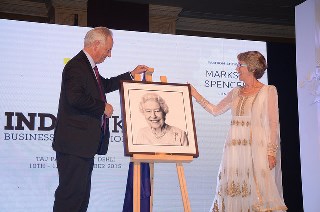 Lord Maude's visit to India coincided with the celebrations of Queen Elizabeth's longest reign as a British Monarch. To commemorate the remarkable feat, Lord Maude visited the state-of-the-art MMTC-PAMP facility outside Delhi, which has a partnership with the UK's Royal Mint. He struck an authentic gold sovereign coin bearing Her Majesty's image in the only location outside the United Kingdom where sovereigns are minted. The minister also selected a sovereign that would be sent back to London.
The centre piece of the celebrations was the unveiling a limited edition portrait of Her Majesty the Queen by Lord Maude (above) at a gala event organised by the UK India Business Council. The portrait has been taken by renowned British photographer David Bailey to celebrate her longest reign.
Lord Maude commented: 'What a day to unveil Her Majesty's portrait - just a day after we celebrated her longest reign across the world.'
He also opened the UK-India Business Convention extending his support for trade and investment between the two countries.
Commitment to stronger UK-India collaboration
In his final leg in New Delhi, Lord Maude was joined by the Secretary of State for Business, Innovation and Skills, the Rt Hon Sajid Javid MP. Mr. Javid addressed one of the largest gatherings of senior British and Indian industry players, at IUKBC.
Mr. Javid said:
'The United Kingdom and India are unique, indispensible partners, contributing greatly to each other's growth and prosperity. British companies are creating one in every 20 jobs in India's organised private sector. We are in Indian Prime Minister Mr. Modi's own words, an 'unbeatable combination'.
Mr. Javid met officials from the Indian Prime Minister's office and senior management of the leading Indian IT services company HCL Technologies, who recently announced a major digital transformation partnership with Manchester United. As part of this partnership, HCL and Manchester United will work together to find new ways of connecting with club's 659 million global followers.
Mr. Javid launched the application window for the Chevening Rolls Royce Science and Innovation Leadership Fellowship (CRISP) for 2016, a programme aimed at mid-career professionals in the fields of science, innovation and business from India and Sri Lanka. He also launched the British Council's Alumni Awards for outstanding achievements made by business professionals, entrepreneurs and community leaders across the globe who have demonstrated how their UK education has contributed to their subsequent success.
Stunning set piece events showcases the best of Britain
The India visit for the two leaders culminated in a grand reception at the residence of the British High Commissioner, Sir James Bevan. The event celebrated the very best of British food and beverages including an appreciation and showcase of Scotch Whisky. Mr. Javid also launched the British Food Festival campaign to run across 36 Godrej Nature's Basket's outlets throughout India. The Ministers were also seen showcasing British products including JCB construction machinery, a stunning Jaguar car, and Royal Enfield motorcycle.
Both leaders stressed the UK's commitment to supporting business partnerships with India, through the new GREAT for Collaboration campaign, inspiring new partnerships and encouraging future successes. The overall objective of the campaign is to increase business between the two countries. The leaders also issued a warm advance welcome to Indian PM Narendra Modi who will be visiting the UK later this year.
An extremely busy schedule by the two Ministers saw bilateral trade and investment between UK and India get a shot in the arm.
But can a high-profile visit to India be complete without savouring the taste of India? Perhaps not....The Secretary of State, Sajid Javid took a few minutes off and made a dash for some quintessential Dilli street food.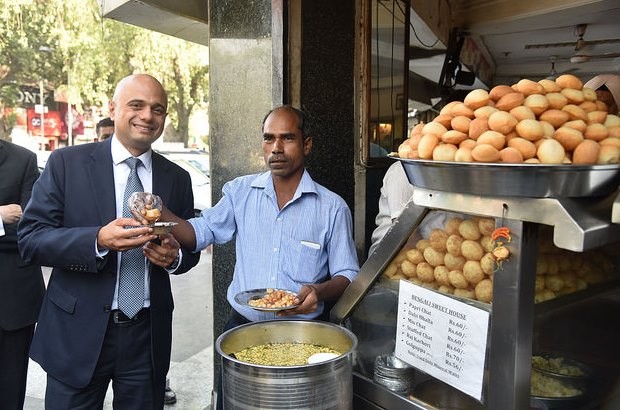 So it was not only trade and investment but also Aalo Tikki (potato cakes) and Samosa served for Mr. Javid. I wonder what left a greater impression on him during his maiden visit as Secretary of State for Business, Innovation and Skills!
For more follow us at @UKTI_India on twitter and UKTI India on Linked In
Check out #IUKBC and #GREAT4Collaboration on Twitter
You can see more photos at https://www.flickr.com/photos/ukinindia/