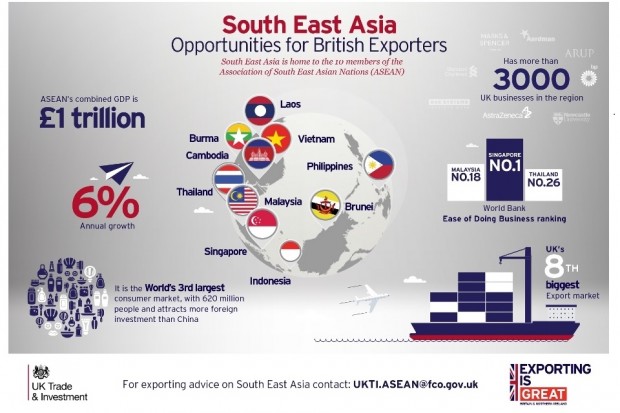 India and China may be the two largest beasts in the East, but the South East Asia 'tigers' offer major opportunities in huge markets boasting equally significant growth.
South East Asia is home to the ten members of the Association of South East Asian Nations (ASEAN): Brunei, Burma, Cambodia, Indonesia, Laos, Malaysia, Singapore, Thailand, Philippines and Vietnam.
ASEAN is a dynamic and fastest growing part of the world's most dynamic and fastest growing region. It is the world's 3rd largest consumer market with 620 million people, attracts more foreign investment than China (£80bn in 2013), has a combined domestic product in excess of £1.2 trillion, and an impressive annual growth rate of nearly 6%.
ASEAN's economic growth continues to be very stable, and with an increasing labour force supporting a relatively small ageing population, the region offers investors and exporters a major growth opportunity.
In areas where China has traditionally had dominance, ASEAN is now competing well with the industrial giant: manufacturing wages in China continue to outpace levels in ASEAN, and average wages in China are now more than a third higher.
Major shifts in business investment are taking place: the manufacturer for Apple, Sony and Nokia is investing £750m in new manufacturing plants in Indonesia. Samsung Electronics has said it will expand its operations in Indonesia and invest £800m into a new smartphone manufacturing base in Vietnam.
Toyota has increased production in the Philippines and will boost its presence in Indonesia with investments totalling £1bn by 2017. India's car maker Tata Motors has also decided to make Indonesia its manufacturing and distribution base for the region and move away from China.
In the smaller, rapidly developing countries of ASEAN, the story is the same: camera maker Nikon opened a factory in Laos last year; and Cambodia has emerged as the region's textile hub, accounting for more than 85% of Cambodia's exports.
The prospect of ASEAN as a manufacturing powerhouse is being realised.
ASEAN has double the population of the USA and less than half the land, so it's perhaps unsurprising that its economic growth is underpinned by the widespread development of infrastructure including airports, water, power, and a major international high-speed rail link between member countries.
These projects are changing the face of ASEAN and already present hundreds of billions of pounds of business opportunities every year.
It's not just about big ticket projects though; two of the three fastest growing beer markets in the world are in ASEAN - demonstrating changing tastes and a growing demand for international products.
And Vietnam and Indonesia have more than just an appetite for beer in common; like most of ASEAN, they have a rapidly expanding consumer class –set to double in the next ten years - driving huge demand for everything from washing machines and vacuum cleaners to education, healthcare, and luxury goods.
For businesses used to working in Western countries, ASEAN can seem far less 'different' than other parts of Asia and this makes it an ideal place to first develop new business. Singapore is sometimes light-heartedly referred to as "Asia for beginners" due to its highly international nature, but English is widely spoken in ASEAN, not just in Singapore where it is ubiquitous, but also in Malaysia, Brunei and the Philippines.
English is also widely spoken among the business communities of Thailand, Vietnam and Indonesia. Elsewhere in the region, English language is becoming increasingly important as the ASEAN Economic Community promotes English as a key part of trade and economic growth.
The legal systems of ASEAN's largest economies will prove familiar to British businesses and protection of intellectual property across the ASEAN region is enforced in accordance with widely-recognised international legal standards.
Singapore is number one globally in the World Bank's 'Ease of doing business' report, with Thailand (18) and Malaysia (26) completing an impressive trio. China (90) and India (142) may be bigger, but there is no question that the 620m people of ASEAN can be much easier to access.
Local advice is invaluable, and the first step for any UK business should be to contact UKTI for insights into market conditions, current open tenders, and assistance identifying credible local partners.
Whether to build a new manufacturing base, to sell to a seemingly insatiable and ever-growing consumer class, or to construct a vast infrastructure network, the ASEAN region presents many opportunities for business - make sure you get your share of this exciting and accessible market. UKTI can help - view our South East Asia: Opportunities for UK Business video below.