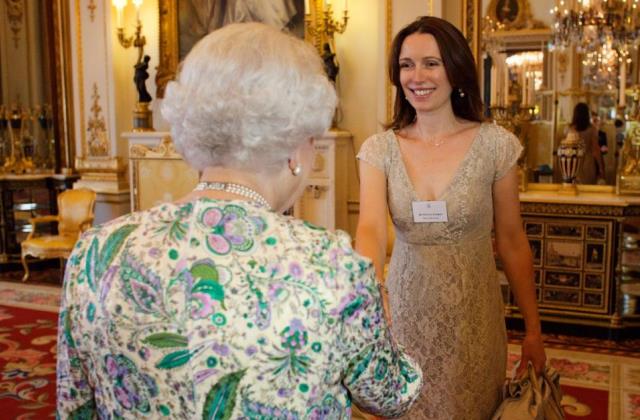 When I first set up British-made maternity occasion wear label Tiffany Rose  back in 2003 I couldn't possibly have expected that ten years later I would be invited to Buckingham Palace to accept a Queen's Award for International Trade from Her Majesty, Queen Elizabeth. It was an honour of the highest order and personally one of my proudest achievements with the business.
Exporting into international markets has been one of the key strategies to help us grow Tiffany Rose from an idea sketched out on my kitchen table (and set up with less than £1,000) into a multi-million pound fashion business.
We achieved early success after launching in the UK market but were quick to identify international markets as key to our future and so we leveraged both wholesale (via stockists) and retail (direct to consumer via the internet) models to grow the business into new territories.
We have had to learn and adapt to each new market as we launch, but thanks to the internet, barriers to entry are lower than they have ever been and local knowledge is more accessible than ever before. Today our exports make up some 75% of our turnover and we are continuing to build our export programme even further.
I am still amazed to think that designs from our collections have been worn by customers in over 80 countries around the world, including celebrities at glamorous red carpet events and international royalty at official engagements. And I'm also incredibly proud that the Tiffany Rose collection is still designed, sampled and manufactured entirely here in the UK – as a truly British brand the Queen's Award feels like the ultimate accolade.
In the 12 months following the Queen's Awards announcement, our retail sales were up 20% and our wholesale revenues up 30%.  We also signed new, high profile international stockists including Mayarya in Hong Kong and Isetan in Japan.
As a hallmark of quality, winning the award has of course helped build our reputation and open new accounts in international markets, however the most surprising impact was felt much closer to home. When we announced the news to our close family of British manufacturers and fabric suppliers we genuinely could not have received a warmer and more supportive response.  The award didn't just represent validation for our business, but also recognition for our manufacturers and suppliers who have worked so loyally with us over many years.
We are thrilled that our team here at Tiffany Rose continues to grow and we are very excited about our future, as well as the future of British manufacturing.
This year's Queen's Award winners will be announced on April 21, which is also the opening date for new entries for 2015/16.   Find out more on the Queen's Awards for International Trade here

UKTI helps many thousands of companies increase their profits and grow through export and inward investment every year
Find news and services information from UKTI
Arrange a meeting with a UKTI international trade adviser (UK cos. only)