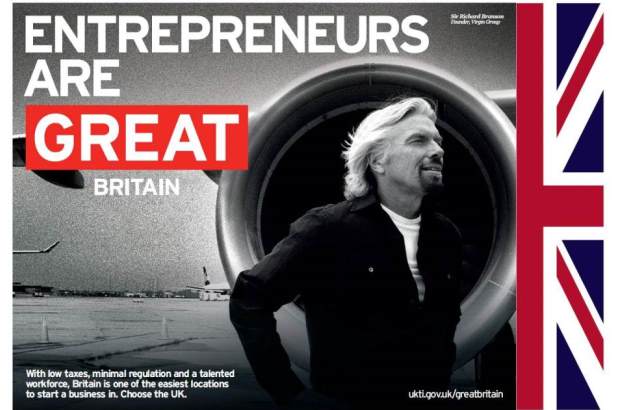 It began with an entertaining in-flight safety video, then it was unbelievable rumours around a hotel opening and ended with dreams of space travel.
Just a typical fortnight engaging with the Virgin Group in the US.
One of the most recognisable British entrepreneurs in this (or probably any) country is Richard Branson. And, as a result, one of the most visible and high-profile brands is his company Virgin.
I grew up with Virgin Megastores and Virgin Cola, but the company has moved on from those days - and is preparing for a fascinating few months ahead in the US.
I'm telling the story of Virgin here, but there are plenty of other compelling examples of British entrepreneurial success in the US - this could have been about James Dyson or Nigel Lythgoe or Paul Smith.
Virgin America, due to regulations only 22% owned by the Virgin Group, has the light and fun feel of its transatlantic big brother - and the most watchable safety video you will have ever seen.
A music and dance performance which tells the familiar story in a compelling way.
It is typical of how Virgin (successfully) positions itself in the market.
Although companies run autonomously across the Virgin group, the entrepreneurial footprint is omnipresent  - testament to the power of Brand Branson.
This was evident in my other recent Virgin encounters. Early next year Virgin Hotels will open in its first offering in Chicago.
Details are deliberately scant but the marketing has already been making its mark.
The hotel market is a crowded one so Virgin have had to show their typically innovative spirit in order to make some noise. Their 'rumors' campaign (I feel I should use the American spelling) on social media (#virginrumors) has asked people to speculate about what the hotel might be like or offer.
These have ranged from being personally tucked in by Richard Branson to live song birds acting  as alarm clocks and a whole range of much more outlandish claims.
The 'graffiti' on the outside of the building is also innovative, featuring abstract portraits of Branson himself and inviting the people of Chicago to take selfies.
Plans are underway for not just one typically 'Virgin' launch party, but two (sometimes one lavish party simply isn't enough) - these are early in the planning but there will certainly be a British theme to them.
The power of Virgin marketing is such that by the time the hotel opens later in the year, the hype will have reached astromonic proportions.
Talking of which, my Virgin fortnight ended with a visit to the Virgin Galactic base deep in the Mojave Desert.
I was honoured to have a tour of the facility and hear their plans for making space tourism a reality.
Again this feels like a very Virgin endeavour. Richard Branson is pushing this himself - and indeed completed his own training for space flight recently - and the whole plan for passenger experience and approach to technology displays all the innovative traits that flow through the company.
Even their business cards - which feature a scan of the individual's iris - are cutting edge.
They are deep into their flight test programme and hope to take the first six passengers, including Richard Branson (and, according to the papers Lady Gaga) into sub-orbital flight in the spring of next year.
The more than 700 paid-up astronauts, as Virgin calls them and among which UK customers feature prominently, will then start to fly on a regular basis.
It all began more than 15 years ago - but within the next six months Sir Richard Branson hope to be on that first flight into space.
He certainly isn't the only British entrepreneur - we have an increasingly large pool of trailblazers leading companies at home and across the world - but he is the only whose company has provided me with such a rich range of experience over the past fortnight.
Much as I found the trip to Mojave fascinating - and the chance to get so close to a spaceship, the stuff of dreams - I think I'll have to settle for short domestic economy flights on Virgin America and hopefully a favourable corporate rate at one of the new hotels.
UKTI helps many thousands of companies increase their profits and grow through export and inward investment every year
Find news and services information from UKTI
Arrange a meeting with a UKTI international trade adviser (UK cos. only)