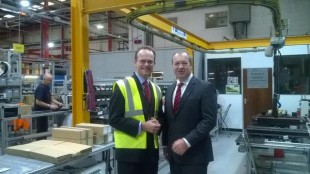 Recent visits to companies have confirmed to me that the North East has a lot to be proud about.
Earlier this month, I welcomed UKTI's new Chief Executive Dominic Jermey on his first visit to the region since his appointment in May, during which we visited some excellent businesses. What impressed me most was that we could clearly see growth ambitions for all the companies, with export sales targets at the forefront of business plans going forward into 2018/9.
Of course it's crucial to have that level of targeting, to drive growth, to drive ambition and to give the workforce a global goal to aim for. That's why for the UK we are aiming to double exports by 2020 to £1 trillion - an ambitious, stretching target.
Similarly the North East has its own export sales target, which would equate to around £20 billion by 2020 if we were to meet the national targeted trend. I like the 20/20/20 idea for our region.
We currently stand at round £12 billion per year, so there's a lot to do. However for any business, large or small, I'd like to see more evidence of the good export sales targets we saw last week, in a given market, with a given sales penetration.
It's a timely reminder, given the economic cycle (the level of the pound, interest rates, GDP growth, etc) that the business lifeblood is sales. An old boss of mine once asked me whether I'd rather have a million pounds of sales or a million pounds of stock - the answer is self-evident.
I know there are many innovative North East companies that are already leading the way in markets across the globe and this year the region boasted seven Queen's Award for Enterprise winners – five of them in the International Trade category.
I'm sure there are many more worthy winners and would encourage companies to be inspired by our previous Queen's Award winners, who are succeeding in markets both at home and abroad.
Working together we can hit the 20/20/20 target and I'd urge companies to apply for next year's awards to help win recognition for their efforts.
Details of the Queen's Awards for Enterprise and how to apply can be found on the website at: https://www.gov.uk/queens-awards-for-enterprise/business-awards