I founded Righttrack Consultancy in 1988. By 1999 we had started to carve ourselves a market exporting bespoke, in-house soft skills training to the Middle East (with great success.) Every UKTI Trade Mission I have attended over the years has been well organised and worthwhile. I had no reason to think that this Mission wouldn't proceed along the same lines.
How wrong could I be?...
The GREAT Festival of Creativity Turkey Trade Delegation was not just a worthwhile investment of time, an opportunity for information gathering and making contacts. It was so much more! It created a sense of being part of a larger team: Team Great Britain. It was a reminder that when we showcase what we do we are doing it not only for growth and expansion of our own organisations, but for the nation. Even those of us who have been exporting for a long time were reminded that, despite just emerging from a long recession, there is so much opportunity out there to go for.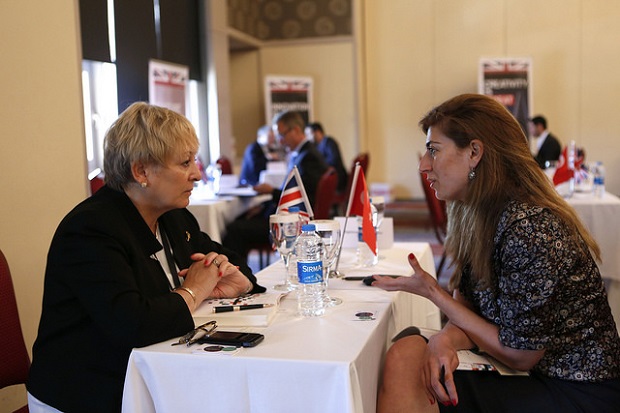 It was evident from the introductory evening reception that this trade mission meant business. The support from various agencies was staggering, including specialist teams from UKTI Turkey and London, Healthcare UK and the British Chamber of Commerce, Turkey. Also attending were His Excellency, Richard Moore, British Ambassador to Turkey; Lord Howe, Minister for Quality Department of Health; and Lord Kakkar, UK Business Ambassador for Healthcare.
Agendas were sector specific, Future Creative Cities, Healthcare and Luxury, with expert presentations by representatives from Turkish business and government. Righttrack has vast experience providing bespoke learning and development solutions into Healthcare sectors so on this occasion this was the group for me. One to one meetings (see above) provided opportunity to meet potential Turkish clients and business partners. At the evening business reception, the angelic Katherine Jenkins sang. There was hardly a dry eye when Katherine movingly attributed Amazing Grace to endorse our condolences to the miners' families following their tragic loss at Soma.
By day two, it was evident delegates had bonded; you could feel our collective pride as we supported delegation members giving talks on different innovations. Lord Kakkar expertly facilitated the workshop attended by Turkish and British Healthcare delegates.
The Mission was running simultaneously with the GREAT Festival of Creativity showcasing British contributors from design, creative education, fashion, innovation, luxury and technology. This amazing exhibition reminded us that GB is still a creative and innovative nation. The beautiful venue overlooking the Bosporus provided the right atmosphere for networking as well as a spectacular exhibition backdrop.
On the final day, we visited a green field hospital site on the outskirts of Istanbul. It's was only then we appreciated the scale of the Turkish Government ambitions to build 19 supersize hospitals, each accommodating 2,500 patient beds. As guests of EMSAS Construction, we were then treated to a memorable ten course business lunch.
For Righttrack, this trip will certainly be a catalyst to expanding our export opportunities. If you were there then I hope you travelled home with similar feelings of pride, positivity, and purposefulness. If you were not there, then maybe it's time for you to showcase what you do. Join a Mission, get out there and show the world how GREAT you are!