As news of its impending IPO resurfaces, it is clear to see why the Alibaba Group is not only China's biggest online commerce company, but will soon be one of the most valuable tech companies in the world.
A quick look at the figures and it is easy to see why. 100 million daily unique visitors on T-mall, its business to consumer platform, 57% share of online search, and an offer so compelling that it is the channel of choice for China entry for brands such as ASOS, Burberry, Tangle Teezer, Karen Millen and LK Bennett.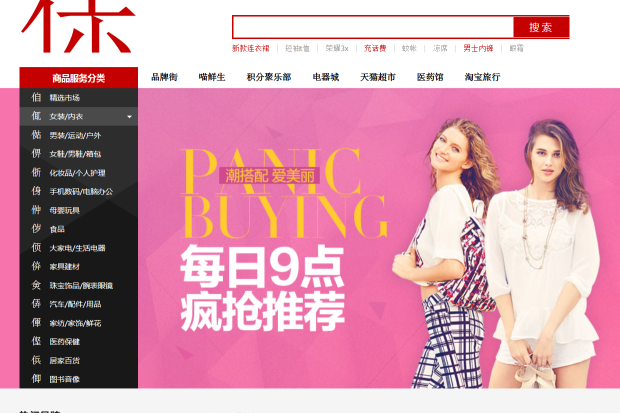 In China, e-marketplaces are mainstream and not just disruptive channels to compliment a high street presence. To succeed, brands need to be on them in order to reach a consumer base across multiple time zones. E-marketplaces give brand owners the capability to range more product than in store, as well as segment distribution of individual products on a regional or city-wide basis. In addition, they should be seen as marketing channels which generate a wealth of behavioural data.
There are currently fourteen e-marketplaces in China and more are planned. UK brands are in a strong negotiating position when it comes to choosing a platform because their brand can bring enormous credibility to an e-marketplace. Prudent brand owners will know this and will look at how they can strategically weigh their presence across a number of platforms to optimise marketing and sales opportunities. For example, ASOS access China by selling via Elle, Baidu and Tmall and supplement this with social media activity to complete the marketing and communications mix.
For ambitious UK brands, e-marketplaces present a huge opportunity. China is an enormous geographical market that is made accessible by mobile. Physical retail still has a role to play but will not offer the scale or reach that an e-marketplace presence gives a brand. E-marketplaces are the go-to channel used by consumers to research and buy products and should be part of any entry level strategy. Indeed, an initial presence on a platform supported by social media will deliver data to inform the next business cycle and is a financially efficient investment.
The range of e-marketplaces both in China and worldwide prompts the need for UK companies to reassess their export model and exploit the power and efficiency that comes with entering a market via a digital route first. If China is not the right choice, there will be another market and set of platforms to review. There are over 250 e-marketplaces worldwide, so there are plenty to choose from. UKTI's e-exporting programme will help UK brands to navigate this process – you can find out more about this here and for news on the programme's launch as well as facts on e-marketplaces, follow @UKTIRetail.
In my next blog, I will be looking at e-marketplaces and social media in South Korea and how UK retailers and brands can access this market.