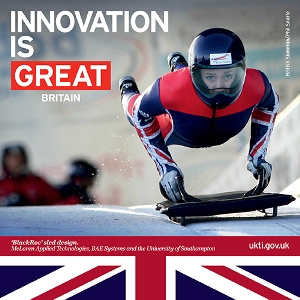 Supporting the skill and dedication of British athletes in Sochi this winter are British innovations that take pioneering advanced engineering techniques and apply them to the sporting arena.
James Roche, engineer from McLaren Applied Technologies (MAT) talks about the BlackRoc sled design, UK engineering, and life with the British sliding teams.
What are the origins of the BlackRoc, and how did MAT become involved?
We have a focussed MAT team working on the skeleton bob programme. Two of us happen to be called Rachel Blackburn and James Roche – hence Black Roc.
Both Rachel and I have been involved with skeleton for some time, we decided to join the company after Vancouver as we saw it as the leader in the UK in terms of delivering technology solutions to Olympic and professional sport.  McLaren has played a major role in helping British athletes achieve success in sports such as cycling, canoeing and sailing and I am hopeful that the success can continue this winter.
What are the key advantages of the BlackRoc design during competition?
At MAT, we have taken a rigorous scientific look at sled design. We fitted a range of sensors to various sleds, analysed a lot of data to build an effective computer models and only then did we really get a picture of what was working and what could be improved.
One improvement that we identified was the potential to adapt sleds to suit individual athletes and configure them to suit particular tracks.  That has always been our approach in Formula 1, to consider every detail and make even small changes if they make the car better suited to the driver and the circuit. We have been able to bring the same refinement to skeleton bob for the first time.
We have made other changes to the sleds, but I'm afraid we don't want to give too much away and enable our competitors to catch up!
As well as looking at design, we brought some of our F1 manufacturing expertise to help improve how the sleds are produced. In F1 we manufacture a new part for the car roughly every 17 minutes, 24 hours a day, 7 days a week. That is a lot of parts over a season, and as a result we have become pretty good at making high quality components that don't fail. We have applied that know how working with both the skeleton bob and bobsleigh teams.
BlackRoc was initially developed at the University of Southampton. What makes studying advanced engineering in UK universities so attractive?
Britain has a proud heritage of engineering and that is kept alive in our world leading Universities, including Southampton. That tradition and respect for innovation and technology within British Universities, makes them unique places to study and helps to maintain their global stature.  Here at McLaren I am surrounded by graduates from other leading British Universities such as Oxford, Cambridge and Imperial College, if we are in demand in such a competitive environment, then I think that says a lot about the quality of education and training on offer.
McLaren Applied Technologies has a great track record in sport, working with British Cycling and bobsleigh among others. What other areas of technology transfer filter into life beyond motorsport?
McLaren Applied Technologies has set out to utilise the expertise and intelligence honed during decades at the pinnacle of global motor racing to support different industries.  Our core strengths in data collection and analysis, simulation systems, high performance design and advanced electronics are applicable to so many industries that our portfolio is quite broad.
For example, we have a ground breaking partnership with GSK, which includes helping to enhance the productivity of major manufacturing facilities and to develop new remote monitoring techniques to improve the delivery of drug trials. Meanwhile, we have developed ultra high performance bikes with Specialized and are working to significantly reduce the environmental impact of data centres with IO.  That is all on top of our work in sport!
Formula 1 is so demanding and technologically varied that the skills developed and the intelligence generated over the years can be applied to make a real difference. I'm very proud to be part of the team which is doing that.
You have been travelling with British athletes throughout their winter season – what does an average day on tour involve?
The average day is a very busy one! During a World Cup week we spend up to 4 hours at the track per day, training and testing different sled and runner setups. Whilst we are there we capture as much information as possible about the sled, the athletes and the conditions in order to understand the whole performance.  As soon as we get back from the track we spend hours analysing data and then adapting sled set ups or planning coaching strategies for the next day. In this environment there is no room to rest. Everyone in the team needs to be a taxi driver, mechanic, psychologist and bag carrier for the team to work. Finding time to eat and sleep is the tricky part!
Finally, have you ever been down a run on a skeleton sled? On a scale of 1 to 10 how terrifying was the experience?
Yes I have, I find it extremely valuable to understand what the athlete goes through. These athletes perform in a uniquely demanding environment and it helps to be able to relate to the athletes experience in order to be able to support them appropriately. It is also better than any roller coaster in the world, I recommend it!
Find out more about McLaren Applied Technologies and learn more about taking the UK's advanced engineering capabilities overseas.