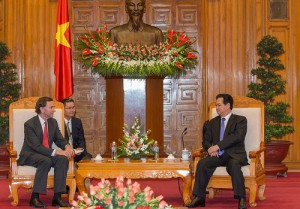 In June Lord Green, the Minister of State for Trade and Investment, visited seven ASEAN countries. He was accompanied by a small business delegation consisting of senior executives from a number of firms,  and joined at various stages by local representatives of British companies.
The point of the visit was to increase our trade links with these nations, signing agreements and building the ground works for many opportunities for UK companies in ASEAN for many years to come. The themes of infrastructure and education ran alongside economic reform support on the recurring issues that need to be addressed.
Indonesia
One of three main reasons for Lord Green's visit to Jakarta was British participation in infrastructure development. During his visit, a call on the Deputy Minister for Transport allowed Lord Green to highlight UK capabilities in airport and rail development, underpinning two of our Indonesian High Value Opportunities (HVO's): the Soekarno-Hatta-Jakarta express rail link and airport development for both national and international access. Another meeting, a lunch with three of Indonesia's top corporates, highlighted their interest in infrastructure development in theUK.
Malaysia
His visit started with his support of the large UK company presence at the Subsea Asia conference and Oil & Gas Asia exhibition. This emphasised the joint agenda to double trade between the UK and Malaysia by 2015. This included raising the topic of liberalising service sectors, especially legal, architectural and engineering, with the Trade Minister Mustapa.
A Call on SPAD, the Malaysian Land Transport Development Authority, concentrated on their target to increase use of public transport across Malaysia from its current standing of 19% of all journeys, to 40% by 2020.
The visit finished on a really positive note - the witnessing of the signing of a letter setting out the conditions of the UKTI grant to the British Malaysian Chamber (BMCC) enabling them to deliver support for British SME's.
Singapore
Lord Green's programme included a constructive meeting with Trade and Industry Minister Teo Ser Luck with whom he opened a UK-Singaporean Innovation Forum; the signing of a UKTI agreement with the British Chamber; and meetings with a British trade mission in the tourism sector.
The visit to Singapore concentrated mainly on industrial strategies, and raising awareness of the opportunities and challenges in the UK. Investors reiterated the need for more regulatory predictability to increase investor confidence.
Cambodia
Lord Green's visit to Cambodia underlined HMG commitment to building trade and investment in one of ASEANs least developed, but fastest growing economies. The visit concluded with UKcompanies agreeing to work with the Embassy to develop a UK commercial offer for Cambodia to position UK business to benefit from Cambodia's future growth.
Vietnam
During his visit to Vietnam he visited both Hanoi and Ho Chi Minh City, in which he met members of the British Business Group in Vietnam (BBGV) to discuss the "Enhancing Business Support Overseas" initiative in order to boost UK's export performance.
In Ho Chi Minh City Lord Green and representatives from major UK design and construction companies met with Mr Le Hoang Quan, the Chairman of the people's committee to talk about the 3 major infrastructure developments that compromise UKTI's HVOs for the city. The meeting resulted in the Chairman welcomingUK potential investment, acknowledging UK strength in Finance and Construction.
In Hanoi Lord Green took part in promoting the UK as partner of choice to support  Vietnam's preparations for the Asian Games 2019. The Minister for Culture, Sport and Tourism expressed interest inUK expertise in preparation for major sports events (using London 2012 as his central example) and agreed to working towards a framework to formalise this process.
Another discussion with Prime Minister Nguyen Tan Dung reiterated theUK's commitment to the 2010 Strategic Partnership and handed over a letter from the Prime Minister.
Thailand
Alongside Thai Transport Minister Chadchart Sittipunt, Lord Green opened UKTI's 'UK Experience in Infrastructure Project Delivery' drawing an audience of over 200 guests, including some 23 British companies. Following this event, the bilateral between the two ministers resulted in an agreement that a Memorandum of Understanding would enable the exchange of ideas on transport planning and policy, and would set up a Thailand-UK working group.
Burma
The success of this visit was centred on Lord Green launching the British Business Group (a potential precursor to a Chamber of Commerce). He also called upon the opposition leader Aung San Suu Kyi (ASSK) to discuss financial matters alongside the Finance Minister Win Shein, in which the scale of the "to do" list became rather apparent, and ASSK's list of priorities also became apparent, listing jobs, water, infrastructure, electricity, education and health – in that order.
Throughout his trip to the ASEAN nations the lists of priorities, although vast, did become clearer, building his relations with the said people and confidence in investors, outlining the opportunities that our UK businesses can give, in order for our businesses to access their opportunities.