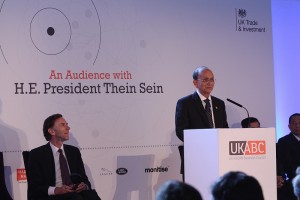 One of the many exciting events we at the UK-ASEAN Business Council have been fortunate enough to hold this summer was the Business Event of Burmese President Thein Sein on the 15-16th July, held during the first state visit from this reforming country since 1986.
This allowed the UK government to mark the continued development of our bilateral relationship, and to ask questions across a broad range of topics from Human Rights to Development, briefly crossing issues on the Rakhine State and anti-Muslim Violence. It was a fantastic opportunity to be introduced to the States goals through reformation, estimated at an annual GDP growth rate of 5.5% has gained much interest for new business opportunities.
On the 15 July, Thein Sein's meetings with the PM and Foreign Secretary concentrated on the importance of economic liberalisation and the obvious need for improvements in the business environment in this bi-lateral relationship, putting emphasis on their announcement of £450,000 of new FCO Prosperity Fund projects, concentrating mainly on their economic directions.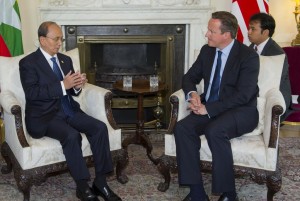 Although other topics were mentioned, the main focus for the second day was the business programme. The multi-sector lunch which we at UK-ASEAN Business Council held on the 16 July at St. Pancras Renaissance hotel, which was a de facto showcase of UK expertise in restoration of heritage buildings, allowed H.E. President Thein Sein to address some 130 business delegates in his speech delivered in English, sending a clear message about his commitment to the topics discussed and the importance of them being aligned with the UK (one of the largest bilateral aid donors, and a country with great expertise in oil, gas and financial services). Lord Green introduced 15 key UK firms to the president highlighting their strong representation from oil, gas, power and infrastructure.
Over the two days some notable comments raised were his promise to release all political prisoners within a specified timeframe, to support bilateral mil-mil cooperation, and messages of support on PSVI (Preventing Sexual Violence Initiative) and the UK Financial Services Task Force. Many enterprises present felt that discussing these topics was incredibly important due to Burma's controversial history of Human Rights.
This event stood as a fantastic opportunity for UKABC and UKTI to introduce many SMEs to the reformed Burma, who may have previously been worried about Burma's history on certain topics mentioned above and their rocky past with the UK. We thoroughly enjoyed being so heavily involved in such an important landmark event between the UK and Burma. UKABC feel the state visit has initiated a much improved relationship between the two states, and we look forward to networking many SME's with the opportunities introduced by Burma and how this will further strengthen our business links with ASEAN.