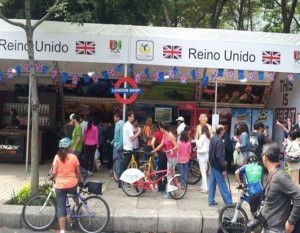 In June UKTI Mexico has been able to work with many different British brands. Some of these companies already have a presence here, others have just entered the Mexican market, while others are still in the planning process - but most of them have had a very positive experience.
The "Feria de las Culturas Amigas", or "International Culture Fair", is an annual event organised by the Mexico City Government. This year more than 85 countries participated in the two-week exhibition of different cultures, traditions and foods on Mexico City's main avenue.
We used our GREAT stand as a platform to showcase different British brands to an audience of more than 1.8 million people (Mexico City, with over 21 million people, is one of the world's largest urban areas). The brands were able to sell, raise awareness and position their products as a high quality British product. Some of the companies that participated included Unilever, Weetabix, Fullers Beer, Brompton Bicycles and Umbro.Shortly afterwards, the Mexico City Queen's Birthday Party was a very ambitious, business focussed event that included 16 different British companies. More than a thousand politicians, celebrities, journalists and opinion leaders attended. Each brand was featured in a "GREAT" atmosphere, specially created for the occasion. To celebrate British innovation and technology, the guests were received by a MINI Paceman, could listen to music on high end speakers from Meridian Audio and Bowers & Wilkins, and also see the latest BBC television programmes.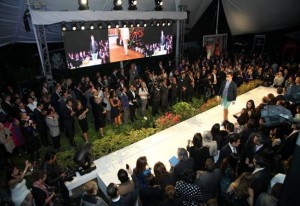 Hackett and Pepe Jeans London put on a fashion show, while the London based Affordable Art Fair presented an exhibition of Mexican contemporary art. Being the British Residence, tea had to be served, courtesy of Lipton in Wedgwood tea cups - with Walkers shortbread and Weetabix desserts. The guests were also able to try 66 Classic "key lime pie" drinks, Strongbow Gold Cider and Diageo products such as whisky.
Finally, the London fashion brand Hackett opened their second Mexico City store recently. Their current shop is one of their best selling locations around the world, so they have been keen to expand. We were lucky enough to get involved in the launch, and meet the company's founder, Jeremy Hackett, at the same time.