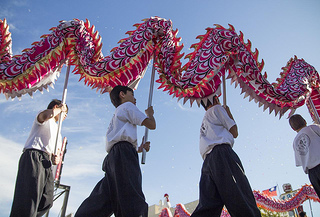 We recently saw the start of the Chinese New Year, a fun occasion that provides an opportunity for workers to return home to eat traditional meals with family and friends. It sees millions of people travelling from the mega cities like Shanghai to visit their loved ones, and underlines the rapid growth these cities have made.
(Note: It follows that new year is a really bad time to travel to China for a business trip!).
Each year is named after an animal from the Chinese horoscope, with 2013 the year of the snake. The snake is not seen as an evil creature, as it is in some quarters, but rather a pensive, thoughtful and intelligent animal. Snakes are also thought to be rather cunning, not in a bad way but perhaps rather like the fox in the Roald Dahl story "Fantastic Mister Fox"
They are also very successful hunters - waiting until the right moment and then striking,   committing all their energy and force into the attack.
There is a strong business lesson here I think.
Taking time to plan and think is time well spent. Finding out about new countries, new markets and how they operate improves your chance of success.  UKTI exists to help you find the information you need there is plenty of information on our website  and links to other information.
But there is no point in planning without action, and in most cases there is no point in half hearted action.  If a snake doesn't go for it it misses lunch – and so might you! We see quite a lot of  people do this with international trade, spending a lot of time worrying about the detail but never quite finding the time to start.
More common are those who don't really go for it fully and worry more about saving a few pounds not translating cards or sending follow up letters etc. Needless to say this reduces the chance of success.
So embrace the year ahead and embrace the virtues of the snake.