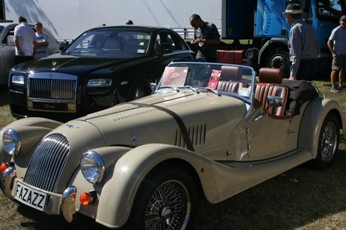 Hagley Park beckons on our final rally day and the beautiful weather is back. Hello Christchurch.   Everyone gets stuck in putting together the 'roadshow'. Christchurch council are pulling out all the stops with a stage and entertainers to make it a truly memorable day.  The fabulous Rolls Royces who have been with us at all the main centres again take prime position. This time a special sexy guest a Morgan (above) plus 8 roadster from Fazazz,  in Christchurch, sits alongside gathering admiring glances from all who pass, including yours truly.
Then six fabulous Triumph motorbikes arrive (below) with riders all kitted out in Triumph gear, quite a spectacle. Triumph too, have been with us from Auckland, displaying at all the main centres on the way.  Have to say, we jump at the chance for a team photo with Vicki on the back of a Triumph bike.
We are entertained by L'il Chuck from Manchester and the horn section of the NZ Army Band. Vicki and the Mayor of Christchurch, Bob Parker, who owns an MG,  give speeches about the close relationship and thank the Ralliers for coming to Christchurch on the second anniversary. It's all about building resilience and the future.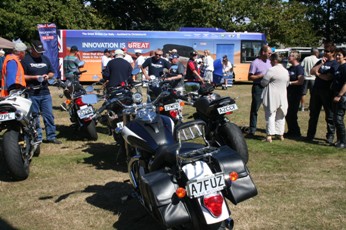 As I take a last look at all these wonderful British cars, I meet  Tom Hartfleet from the UK, he's here with a friend who has a Morris Minor, but also because he is one of the exhibitors in the Ellerslie Flower Show. The show takes place in Hagley Park in March and is the NZ equivalent of the Chelsea Flower Show in the UK. His conceptual garden includes a tree surrounded by a seat but instead of looking away from the tree you look towards it. There are tree ferns planted under the canopy representing strong growth, symbolic of the emergence of a new strong country.
I promise no tears but the rally is over for this year. There are many calls for it to be re run again, the consensus being in five years time.  I'd certainly do it again but what am I going to do now without my own magic bus at my beck and call.
Philippa Norton
UKTI New Zealand