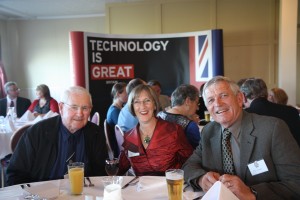 Friday 22 February, we wake in Blenheim to another beautiful day but are aware of the southerly change heading our way and dress for cooler temperatures.   It is not just the weather that has an air of change, it is the second anniversary of the Christchurch earthquake and we have the people of Christchurch in our thoughts. We all have our own memories of the day the quake hit Christchurch.
Luxury this morning, not such an early start, even time for breakfast, before we head down the coast to Kaikoura. I catch up with the two Pauls who tell me of a couple of investment opportunities from last night's chamber of commerce event.  Then it's back on the bus heading south. It's a short stop in Kaikoura, famous for whale watching, where once again we are greeted by locals and tourists.
Next stop Christchurch and Riccarton race course where the ralliers all gather for a farewell dinner and a chance to swop all those stories.  King of Shaves are offering a  prize for the best story about their 'closest shave' on the rally. Barbara, from the trade team, tells how she mistook shampoo for face cleanser one night, explains the red eyes the next morning, ouch..
The Alexander Dennis guys organise a sweep stake, guess the mileage of the bus from the depot to Christchurch, not as easy as it seems and raise $500 for the charities.  The estimate is within 0.1 of a kilometre. Sponsors have donated generous prizes for the auction and we raise over $6000 on the night for the four charities adding to the collections and auctions on the way.
Tomorrow, it's Hagley Park, the final destination of the rally and the last chance for those in the Great British Car Rally  to show off their beautiful cars.
Philippa Norton
UKTI New Zealand