Another early morning start and we fueled up on coffee and big breakfasts before watching Napier recede into our rear-vision mirrors.We headed towards Masterton and another heart-warming welcome from the locals. One of the highlights of the Rally has been coming to places like Masterton, great towns with friendly people that we don't often get a chance to get to know. And there are not many better ways to meet the locals than rolling into town with 100 classic cars at your back – it certainly worked for Vicki .
Then it was back on the road for the hop across the Rimutakas to Wellington where the Honourable David Carter, the Speaker of the House had invited a few of his mates along to welcome the Ralliers to town. They included the retiring speaker Lockwood Smith, about to become the New Zealand High Commissioner to the UK and Christchurch MP Amy Adams.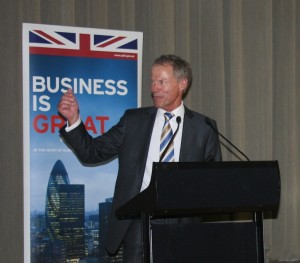 While the Ralliers went to sample the best of Wellington the UKTI team met up with more Wellington business contacts at a reception at Shed 5. I spent much of the time talking to two Wellington-based international consultants.  They work with businesses to develop their markets in NZ and then  identify new markets overseas. So a good conversation was had regarding UK opportunities. Especially as a couple of the companies they are currently working with were also around the table.
But it was not all business, Vicki ran a silent auction. The items on offer having a sporting flavour, a cricket bat signed by the English 20/20 team, currently on tour in NZ and a rugby shirt signed by the Wellington-based international club side the Hurricanes. The funds raised going to the Car Rally charities.
And so ends day four of the Great British Car Rally, tomorrow brings the cars on a morning jaunt to Wellington's waterfront and then we cross to the beautiful South Island on our penultimate leg to Christchurch.