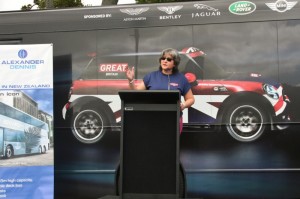 What a cracking start to Day 1 of the Great British Car Rally, New Zealand put on the weather and GREAT Britain put on the show with a superb collection of British automobiles gathered shining in the sun in Auckland Domain. There were Allards, Austins, Aston Martins, Bentleys, Hillmans, Humbers, Minis, Jaguars, Land Rovers, Triumphs, Wolseys and that's just what I saw – tweet me anything I missed @UKTINewZealand.
British High Commissioner Vicki Treadell set the scene, telling an audience of 200odd Ralliers, Aucklanders and passers by about the first Great British Car Rally in 1997 run by the UK/New Zealand Link Foundation. That Rally was run by Pat Alston, the wife of the British High Commissioner at the time, Robert Alston, and now, 15 years later, it has been revived by Vicki and Rally Director Ross Church. The Auckland gathering was also treated to a speech by Olympic Gold Medallist Sir John Walker (1,500m winner in Montreal) who reminded us of the other, charitable side to the rally. Throughout the rally we'll supporting four fantastic charities – Starship Foundation, Save the Children, Christchurch City Mission and Stepping Stone Trust.
After a few words from Pat Alston everyone broke for cups of Twinings tea and scones with jam and cream before the roars, purrs and reverberations of the magnificent machines started on the road to Tauranga.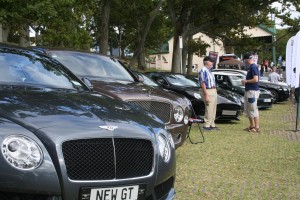 Beautiful New Zealand coutryside unrolled gradually before us as the GREAT Alexander Dennis bus smoothly rolled through Waihi, Katikati and then the welcoming Tauranga where Mayor Stuart Crosby had organised a nice cup of tea and a sit down in front of the waters of Waipu Bay. Thanks to the lads from Alexander Dennis for giving me a lift today in their clean, green, quiet machine – apparently 205 of their new Enviro 200 range are plying the streets of Auckland already, with another 20 odd in Wellington – I recommend the back seat for snoozing.
A breakfast with Tauranga businesses tomorrow that are thinking about setting up in the UK before heading to Whakatane and then Gisborne – follow our progress on twitter through #GBCarRally and check out the photos from the trip so far on the UK in New Zealand Facebook Page.
Jake Waddell, Head of Communications, UKTI Australia and New Zealand